In a high inflationary environment, the starch derivatives industry is facing an unprecedented high variable cost situation: raw materials, energy, and freight costs are hitting record price levels. The energy crisis in Europe and growing concerns over the supply sustainability of natural gas from Russia are adding uncertainty and pressure to the overall industry. In addition, persisting problems in the global supply chain are affecting every part of the value chain, from raw material sourcing to end customer. This leads to a very challenging time for the starch derivatives industry to remain competitive and for customers to secure full supply.
Starch processors facing unprecedented high costs
Global grain markets are very tight and production of main raw materials for starch processors – corn, wheat but also potato – is below expectation following unfavorable weather conditions in major producing areas, pressuring the market price to high historical levels.
The war in Ukraine has also contributed to the inflation and volatility of commodity prices. European wheat and corn have reached new historical high levels in May 2022, and the market prices are forecasted to remain high as the corn crop is below expectation. The conflict in Ukraine brings uncertainties on the import feasibilities as both Russia and Ukraine are major grain exporters.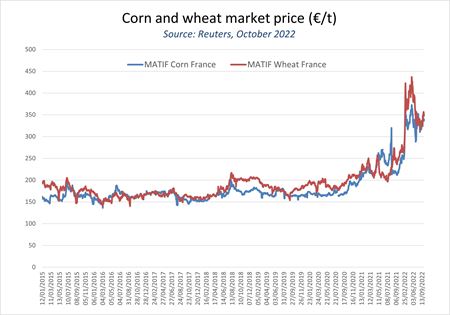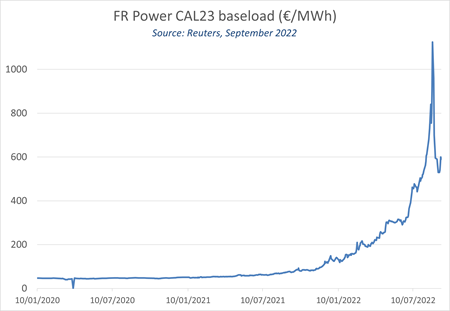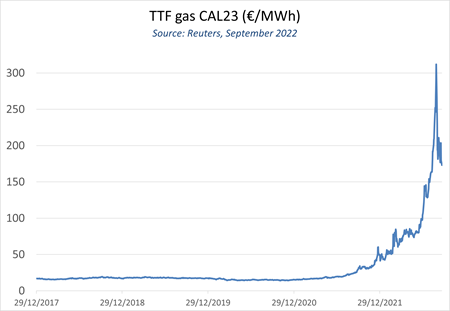 The energy crisis in Europe is pushing processors' costs even higher. The EU is highly dependent on gas supply from Russia with some EU countries being more reliant than others. The growing concerns over Russian gas supply sustainability has contributed to the high price inflation.
The persisting global supply chain issues with logistics disruptions due to labor shortages, ports' congestion and structural changes continue to affect businesses and consumers. Freight costs are reaching unprecedented levels. Additionally, other variable costs like packaging or chemicals have also surged, weighing on starch derivative producers.
Inflationary pressures continue to rise as countries and businesses worldwide are hit by persisting problems in the supply chain and rising commodities' prices. Continued volatility of prices at high levels is becoming the new normal in the market, impacting starch processors' costs significantly for the long run. The starch derivatives industry is now striving to remain competitive in an unprecedented high-cost environment.
Balancing starch slurry to remain competitive
The starch industry does have the ability to produce a wide range of starch derivatives out of the starch slurry extracted from grains. In this high inflationary environment, starch derivative processors have to find the right balance in the process of their starch slurry to produce a range of starch derivatives that both meets market demand and covers high variable costs to remain competitive.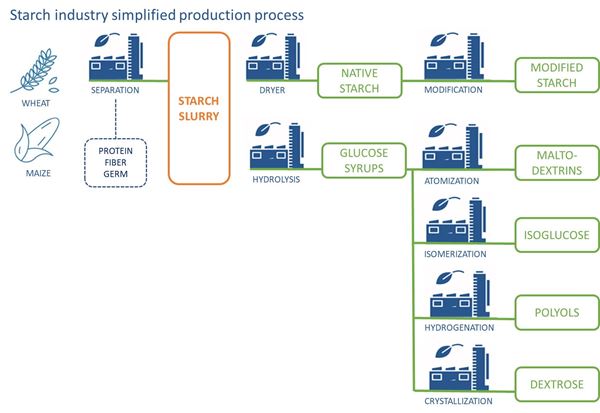 The energy crisis brings new uncertainties for European starch processors as great disparities exist in the industry regarding the source of energy used from one plant to another or the reliance of some countries on Russian gas. A potential rationing of gas supply in the EU could affect some assets, lowering availability of starch derivatives on the market and create additional tension in the global market.
In recent years, the overall industry's lack of profitability has limited investments in some areas and even pushed some assets to shut down, contributing to the current tightness of the market.
Securing supply in a tight market
Starch derivatives are mainly used in the food industry in a wide range of applications (e.g., confectionery, beverages, dairy products, baked goods) for their sweetening, anti-crystallizing, texturizing and nutritional properties. Despite the softening of market demand for industrial starches used in the paper and board industry for its binding properties, demand for food grade starch and starch derivatives continues to be sustained.
The global economic context combined with post-COVID-19 consumer behaviors are, on one side, driving a demand for staple essential food as a way to balance the increased cost of living. On the other side, there is a continued move towards healthier and premium food as considered beneficial for a better way of living. This creates an overall growing demand of starch derivatives globally, both for staple and healthier foods requiring the use of starch derivatives. In addition, high price levels of various sweeteners like sucrose or lactose are favoring substitution with more competitive starch sugar sourcing.
In Europe, sales of key mainstream food applications such as beverages and ice cream which suffered from the COVID lockdowns are now recovering, enhancing usage of starch derivatives. The flow of Ukrainian refugees into the European Union led to an increase of the population and the need for more food products. The market remains tight both on commodities and specialties, as the demand continues to be strong, and the availability is limited.
In the US, the supply/demand equilibrium of starch derivatives is suffering from local shortages, which, added to a high level of raw material costs and strong demand, leads to a tight situation for the foreseeable future.
While China and India are recovering from COVID restrictions with domestic dynamic food growth at +5-6%; however, export demand is still suffering from the global macroeconomic downturn.
Overall, securing supply remains a concern on the starch derivatives end-user side.
Roquette is a global leader and reliable market supplier of a wide range of starch derivative solutions produced across the world. We remain committed to providing the highest quality products and services, and constantly invest to support the growth of our customers and ensure an efficient supply, including during such uncertain times. In this tight market environment, Roquette invites our customers to engage in discussions at the earliest opportunity with their sales representatives in order to find the best options to secure their supply.
Discover below Roquette's extended portfolio of starch derivatives.