Limited market supply situation of the industrial starches
The European starch derivatives market is tightening on the back of strong demand. Usage of industrial starches used in the manufacture of paper and board for its binding properties – from increasing the strength of paper, used as surface sizing but also used in the manufacture of corrugated paperboard, paper bags or boxes – is growing, healthily supported by the booming e-commerce trend.
The consumption of industrial starches in the corrugated board segment registered a healthy annual growth estimated at 3% for the past five years and rose by 6% last year as e-commerce was boosted by measures linked to the COVID-19 pandemic.
The industry is running at a higher rate following the removal of drying starch capacities of the market to meet the rising demand, but availability remains limited, tightening the supply and demand market balance. The starch industry does have the ability to produce a wide range of starch derivatives out of the starch slurry extracted from wheat and corn. In this limited supply market situation, starch derivative processors have to find the right balance in the process of their starch slurry to produce a range of starch derivatives that both meets market demand and covers high variable costs to remain competitive. In such a tight market environment, securing supply is becoming a growing concern on the starch derivatives consumers' side.
The information contained herein has been lawfully obtained and is based on Roquette's best knowledge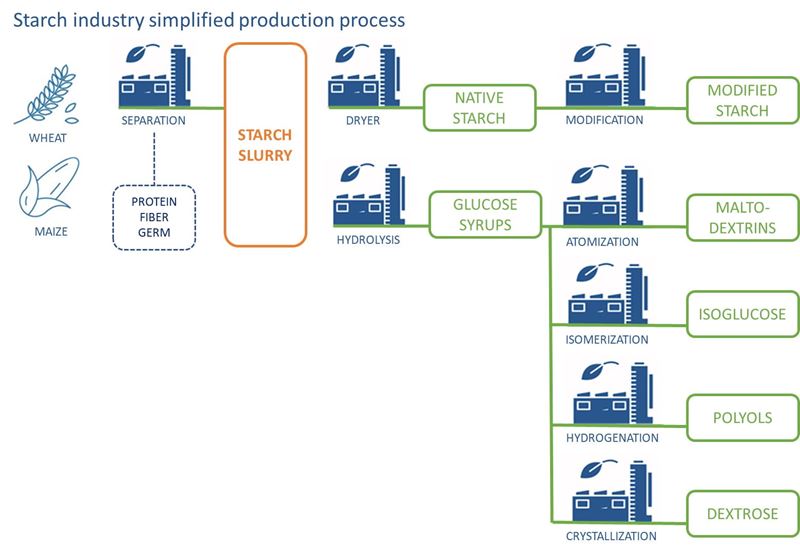 Securing industrial starch supply in Europe
Roquette is a market provider of cost-efficient industrial starch solutions for the paperboard industry in Europe, offering an extended portfolio and high technical expertise.
Discover Roquette extended portfolio of cost efficient industrial starches.