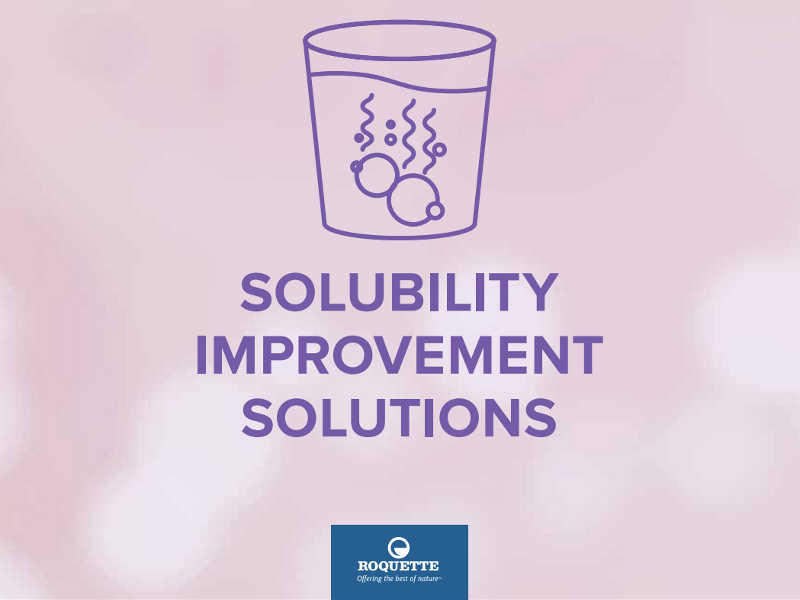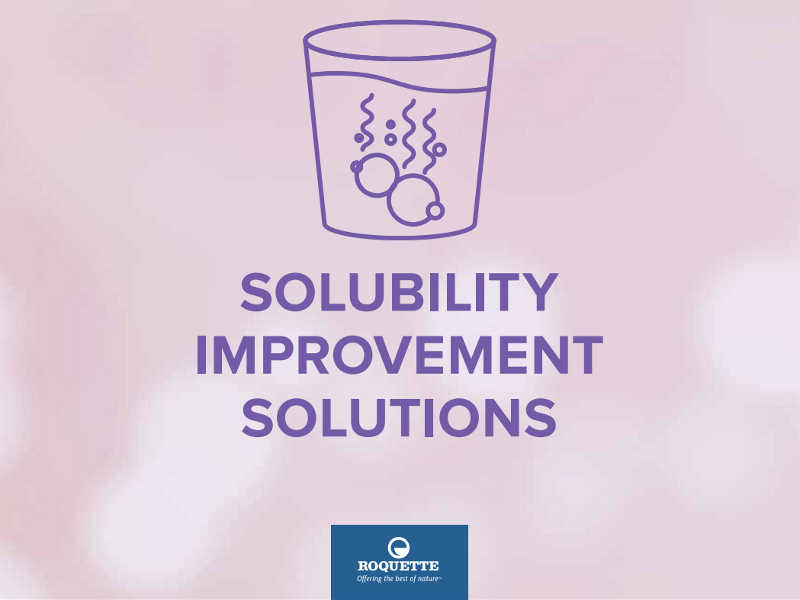 Don't let poor bioavailability hold you back. Advance your oral dosage forms with our versatile solubilizing solutions.
Visit us and find out how you can rethink pharmaceutical workflows with precision dispensing technology or produce vegetarian softgels thanks to your new LYCAGEL®.

Roquette experts are very happy to welcome you to our booth to let you discover our plant-based solutions and discuss your needs.

Meet our Food team to experience Roquette's latest innovations in plant-based ingredients.

Roquette expert to deliver a presentation "LYCAGEL®: Soft Capsule Performance/ Stability vs Gelatin".

Roquette expert will present on "POLYSORB®- a versatile monomer for improving thermoplastics polyesters properties".

The company extends its NUTRALYS® plant protein range to better address consumer demand for healthier food.

We partnered with Big Idea Ventures to discuss the latest market trends in plant-based meat and dairy alternatives, and introduce NUTRALYS® pea protein to BIV's latest cohort in Asia.

Discover below how a delicious sports isotonic drink can provide energy and hydration!

During this webinar, our experts make you discover our new high-performing soothing agent: 100% plant-based, microbiome-friendly certified, COSMOS and NATRUE approved, vegan suitable.

Optimize hydration and energy in sports drinks with GLUCIDEX® Maltodextrins

The 24/7 online and easy-to-use digital platform dedicated to R&D and offering a wealth of technical, scientific, and market information.

Created by scientists for scientists, the Food and Nutrition Innovation Hub is an online platform with 24/7 access to explore and find technical insights.

In this technical article, we dive deep into the performance of our plant-based ingredients through comparative case studies on tomato transplants.

Crispy Golden-Hour: Obtain the best results using TACKIDEX® dextrin in your batters for improved crispiness.

Roquette announced today the launch of its new NUTRALYS® range of organic textured proteins from pea and fava for European markets.

Discover how you can make safe, productive, efficient bioprocessing technology a reality.

Discover how Roquette plant-based monomer isosorbide brings superior mechanical properties and improved performance to polyurethane coatings.