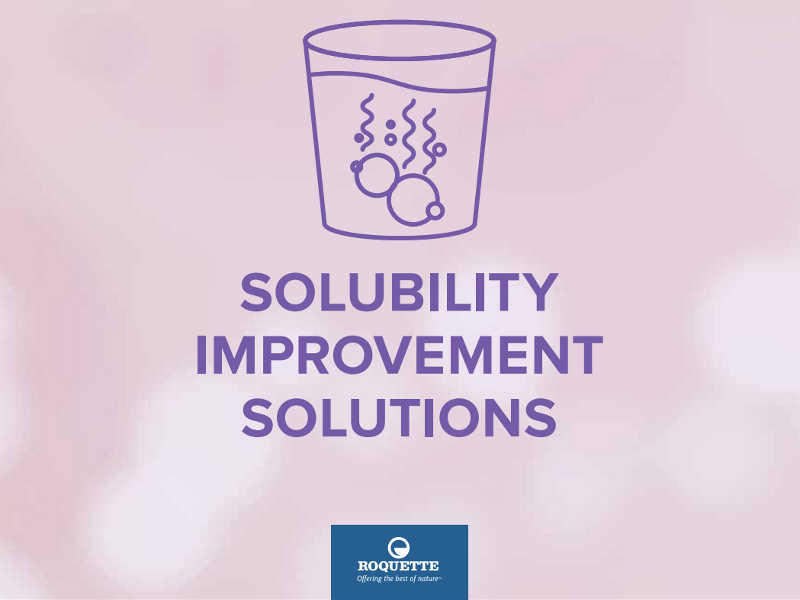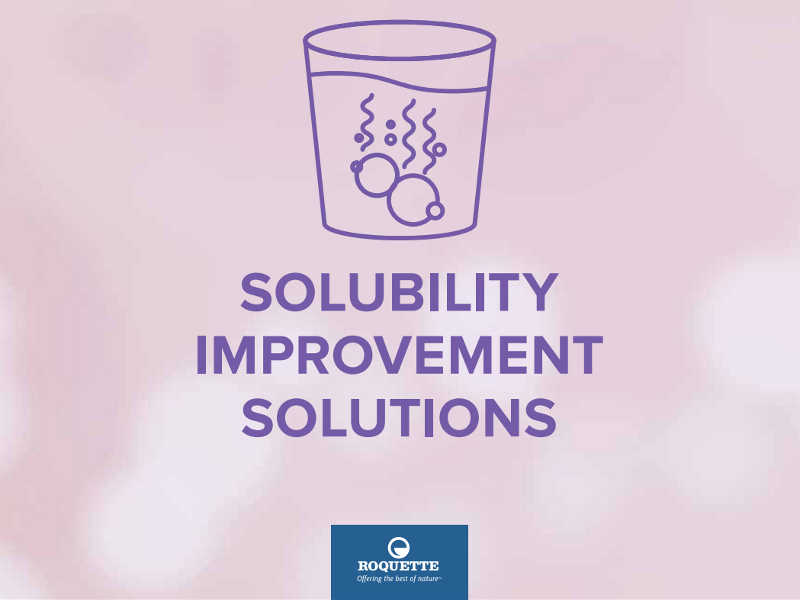 Don't let poor bioavailability hold you back. Advance your oral dosage forms with our versatile solubilizing solutions.
Roquette experts will share our innovative solutions to the greatest challenges in pharmaceutical development.

Roquette experts will share insights on how to build "Better For You" indulgences with NUTRIOSE® soluble fiber.

The partners have successfully completed the R&D phase for the development of Brazzein. They have now signed a contractual agreement for its approval and production.

Find out more on how Roquette's KLEPTOSE® HPβCD biopharma is a viable option for protein aggregation inhibition to extend the shelf-lives of therapeutic proteins. Watch the webinar in Chinese.

Join Roquette experts as they share insights on how to build "Better For You" indulgences with NUTRIOSE® soluble fiber.

Roquette Customer Technical Service (CTS) has generated a special formulation recommendation for Lactobacillus fermentation.

A 100% plant-based preservative booster to reduce the level of listed preservatives, and much more...

NUTRALYS® H85 is our hydrolyzed pea protein isolate often used as an organic nitrogen source replacement for traditional protein sources like soy and casein.

Let's have fun and finish off 2020 with a blast!<br>Play with us!

Be amazed by our innovative Beauté by Roquette® DS 421 to create emulsions in the blink of an eye.

A plant-based innovation, with Food compatibility, NUTRALYS® H85 pea protein, responds to your request for plant-based origin substrate for the fermentation market.

Roquette team took part in this year's event to showcase our offerings in pea and our holistic approach on health and well-being to food manufacturers.

The Roquette Foundation for Health organized yesterday a virtual event to celebrate its 3- year anniversary. They also revealed the winner of its first ever Research Award and put the spotlight on the "Coup de Coeur" Award. This ceremony was also the opportunity to honor the public's favorite project.

Roquette is delighted to announce the appointment of Pierre Courduroux as its new CEO, effective December 14, 2020.

Their collaboration and strong partnership strategically shift to design highly flexible supply chains while reducing environmental impact.

"Receiving this award for a second time is a tremendous honour..." said Dominique Baumann, CEO for Roquette in Canada.

Offering the best nutritional ingredient solutions to meet specific needs at each stage of life.

A growth promotor and nitrogen source, TUBERMINE® FV is 100% vegetable-based, high protein content and balanced amino acid profile.

SOLUTAB™ is a super disintegrant which delivers accurate predictable release of formulation actives. Natural-origin, plant-derived cellulose is safe for use in agricultural applications.

GLUTALYS® HQD is a natural, plant derived nitrogen source and pre emergent herbicide. Discover its advantages in plant care industry.

Our plant-based GLUCIDEX® maltodextrins perform ideally as carriers/additives in the production and formulation of biopesticides, microbial biostimulants, and various bioactive ingredients.

We serve as a major player in the global gluconate market, with high quality products and global technical and innovative support.

GLYCOLYS® sodium starch glycolate offers major advantage in the plant care industry: natural-origin, vegetable derived cellulose that is safe for agricultural applications.

We offer a larger range of polyols designed for plant biostimulation and stress reduction in the plant care industry.

Roquette portfolio offers more than 300 native and modified starches, which perfom as an energy store in the vast majority of plants.

MICROCEL® is a pure, partially depolymerized cellulose and multifunctional excipient and its advantages in agricultural applications.

SOLULYS® is used as an organic fertilizer, and potential biostimulant as part of nutrient formulations in plant care.

NUTRALYS® H85 pea protein hydrolysate offers a balanced nutritional profile with high bioavailability as a non-allergen, non-GMO alternative to other protein hydrolysates.

Cyclodextrins offers novel technology for encapsulation & stabilization in the plant care industry.

Discover our wide range of dextrose, utilized as a nutrient and carrier in a wide range of plant care formulations.