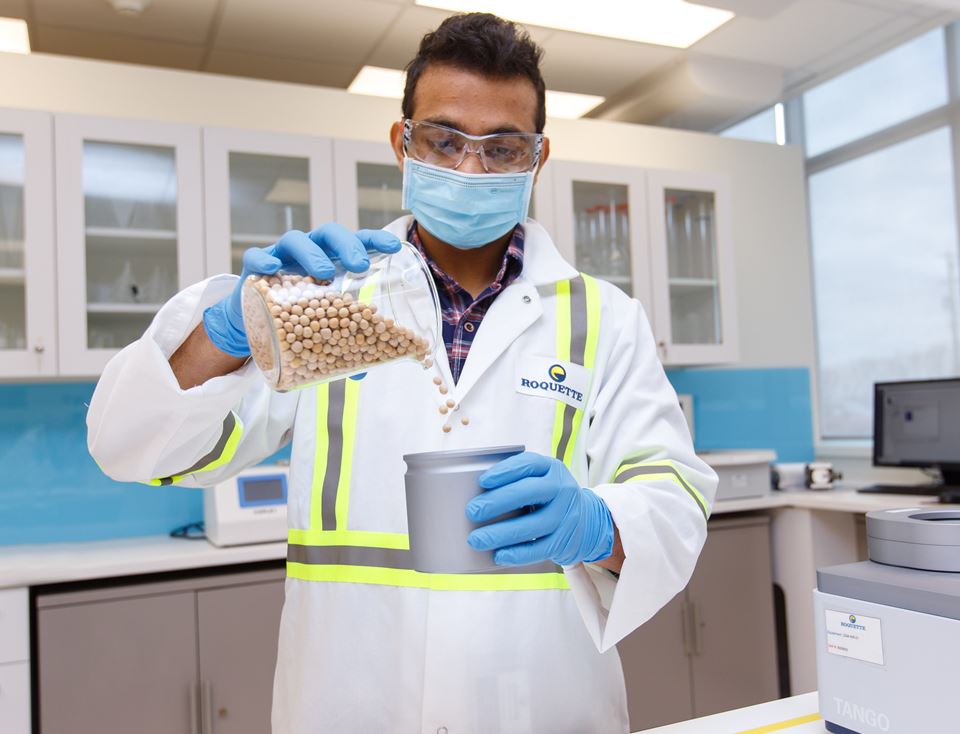 Roquette was built on innovation: We made our reputation as a pioneer in starch products, then became a leader in sugar-free sweeteners a generation ago. And in recent decades, our line of NUTRALYS® plant-based ingredients have helped new protein creators forge food's future.
Until now, those plant-based ingredients have been produced at our facility in France. But as our new facility in Canada begins production this year, our overall capacity will increase. And because the new facility is a greenfield project – one built entirely from the ground up, without the need to integrate existing tools – it is presenting a host of new opportunities for innovation.
"We're building one of the first plant protein facilities that's ever been built from the ground up," says Michael Dampier, a power engineer with Roquette in Canada who's currently designing maintenance and setup protocols at the brand-new facility. "Who gets the chance to start something from the ground up? Not many people."
Here are three ways in which the greenfield approach is letting us rethink plant protein production.
Designed around modern health standards.

As time goes by and regulatory organizations update their health and safety standards, food production facilities update their equipment and procedures too.

But it's one thing to retrofit old infrastructure for new standards – and another to design around them from the outset. Because the Canada facility was built new, we were able to plan for certifications like kosher, halal, and organic, as well as the latest international health requirements. Equipment design and placement and even factors like the building's architecture were all planned with these standards in mind.

"This was a chance to design the facility for the requirements and not the other way around," says Maria Krawec, a food safety compliance coordinator with Roquette in Canada. "I was one of the first people in my tier to be hired – it was really cool to have input on the design of the facility."

As the facility nears its opening, much of Krawec's work now is to shape safety compliance plans to meet various government regulations. She begins with what Roquette already knows and does in our other facilities, then updates for the new environment.

"The fact that this is a greenfield site and we're starting from scratch," she says, "meant we could build it right the first time."


One integrated quality-control system.

Beginning fresh means Roquette isn't just designing for existing standards – it's finding ways to integrate them too.

"We have the chance to implement all Roquette's best standards and the industry's best standards now, in a single plan," Rob Mancini, Integrated Management Systems Coordinator at Roquette in Canada.

Mancini's job is quality control. His work ensures the new plant will comply with four different international standards: The quality management system known as ISO 9001, the food safety system known as FSSC 22000, the environmental management system known as ISO 4001, and the occupational health and safety management system known as ISO 45001.

Adherence to these systems typically means four separate practices and four internal audits – but Mancini's taking this launch opportunity to put the four together so the new facility can run one simpler system.

"When you keep the systems separate, you end up with duplication of work," he says. "We'll have one comprehensive list. One internal audit. One management review."
The integrated system will be more efficient, Mancini says. But it's hard to integrate like this once a facility is running. A fresh start means a big opportunity.


Transparency and unity among employees.

Employee culture is a crucial part of every business. It's self-reinforcing, too: When team members feel connected and empowered, they can reproduce that in new team members.
But what happens when everybody's new at once? For Roquette, this has proved to be a plus.

"Most candidates are nervous to start a new job," says Samantha Cheffins, HR Generalist with Roquette in Canada. "But when you have 24 people in the same position as you, it makes a strong connection."

That's no exaggeration: Cheffins hired or helped hire nearly 65 employees in her first nine months with Roquette. The largest cohort: 24 production operators, all hired and onboarded together in late 2020.

"They bounced ideas and questions off each other," Cheffins says. "It's been a few months now – and a lot of the teams have become close friends."

Cheffins says the emphasis on culture was intentional. "We placed a strong emphasis on hiring for a good fit," she says. "Now, the level of transparency and authenticity is through the roof. I hope that builds trust with customers as well, because it means we can ensure great quality of product. It's going to instill a sense of control and confidence when our operators enter the plant for the first time."
Ingredient Samples & Documents
Search NUTRALYS® plant protein ingredients, get quality documents and request samples for your trials.
Want to learn more about our solutions?
Your success is our greatest priority, and your needs are unique. We would love to better understand your needs and connect you with our experts.