NUTRIOSE® Soluble Fiber for Satiety and Weight Management; a Healthy Way to Make You Feel Full
NUTRIOSE® Soluble Fiber for Satiety and Weight Management; a Healthy Way to Make You Feel Full
The soluble, non-viscous fiber NUTRIOSE® may be a healthy solution when incorporated in foodstuffs or on top of the diet to reach satiating properties. Indeed, fiber-rich foods are less calorie-dense, but NUTRIOSE® exerts metabolic activities, making it a great choice to feel full and consume fewer calories as a result.
Prevalence of obesity has reached to epidemic proportions throughout the world. Obesity has been shown to be associated with the development of chronic diseases such as heart disease, type 2 diabetes, and certain types of cancer. Therefore, there has been an increased demand for viable and sustainable food solutions for weight loss.
SATIETY:KEY TO WEIGHT MANAGEMENT
Generally, a food which can improve "feeling of fullness" or "satiety" is beneficial for reduced caloric intake and subsequent weight loss. This sensation of feeling of fullness can play an important role in reducing the calories we eat. One of the biggest challenges in weight management is dealing with hunger due to drops in blood sugar. These drops in blood sugar can be overcome by eating healthy foods that will give you a feeling of fullness or satiety. Healthy foods which boost satiety includes foods rich in proteins, healthy fats and fibers. Nutrients in these foods exerts their benefits with different mechanism of actions in the body. Therefore, such foods are considered to be beneficial for weight control.
FIBERS MAY ACT DIFFERENTLY
Some dietary fibers like insoluble or viscous fibers provide satiety due to their properties such as adding bulk and viscosity to the diet. Textural properties of fibers allow us to chew more and promote the secretion of saliva and gastric juice resulting in the expansion of stomach and enhancement in satiety1,2. Some other fibers like soluble and non-viscous fibers may exert their satiating properties thanks to the activation of metabolic pathways originating in the colon. By feeding the friendly gut bacteria, these fibers display health benefits beyond the gut.
NUTRIOSE® is a soluble non-viscous fiber poorly digested (≈15%) in the upper part of the gastrointestinal tract, and most of the NUTRIOSE® (≈75%) has been found to undergo selective microbial fermentation in the colon3 . Colonic fermentation of soluble fibers is higher than that of insoluble fibers2 . The byproducts of fermentation of soluble fibers in the colon include short chain fatty acids (SCFA), such as propionate, butyrate, and acetate. These SCFA may increase satiety as they are known to produce satiety-related hormones2 and to play a role on the gut-brain axis. However, many fibers at the recommended doses may cause negative side effects like bloating and flatulence. NUTRIOSE® is a well-tolerated fiber with a very high digestive tolerance with no symptoms of discomfort up to 45g/ day 4,5,6.
A FIBER THAT HELPS FEEL FULL LONGER… BUT NOT ONLY!
In three human studies, healthy volunteers were fed NUTRIOSE® between 14g and 34g/day during a minimum of 4 weeks supplementation.
Two of the three studies7,8,9 showed significant time- and dose-related effects on hunger associated with significant reductions in caloric intakes, from 8g as compared to placebo. These observations were correlated with a significant reduction in bodyweight starting with the 14g per day dosage.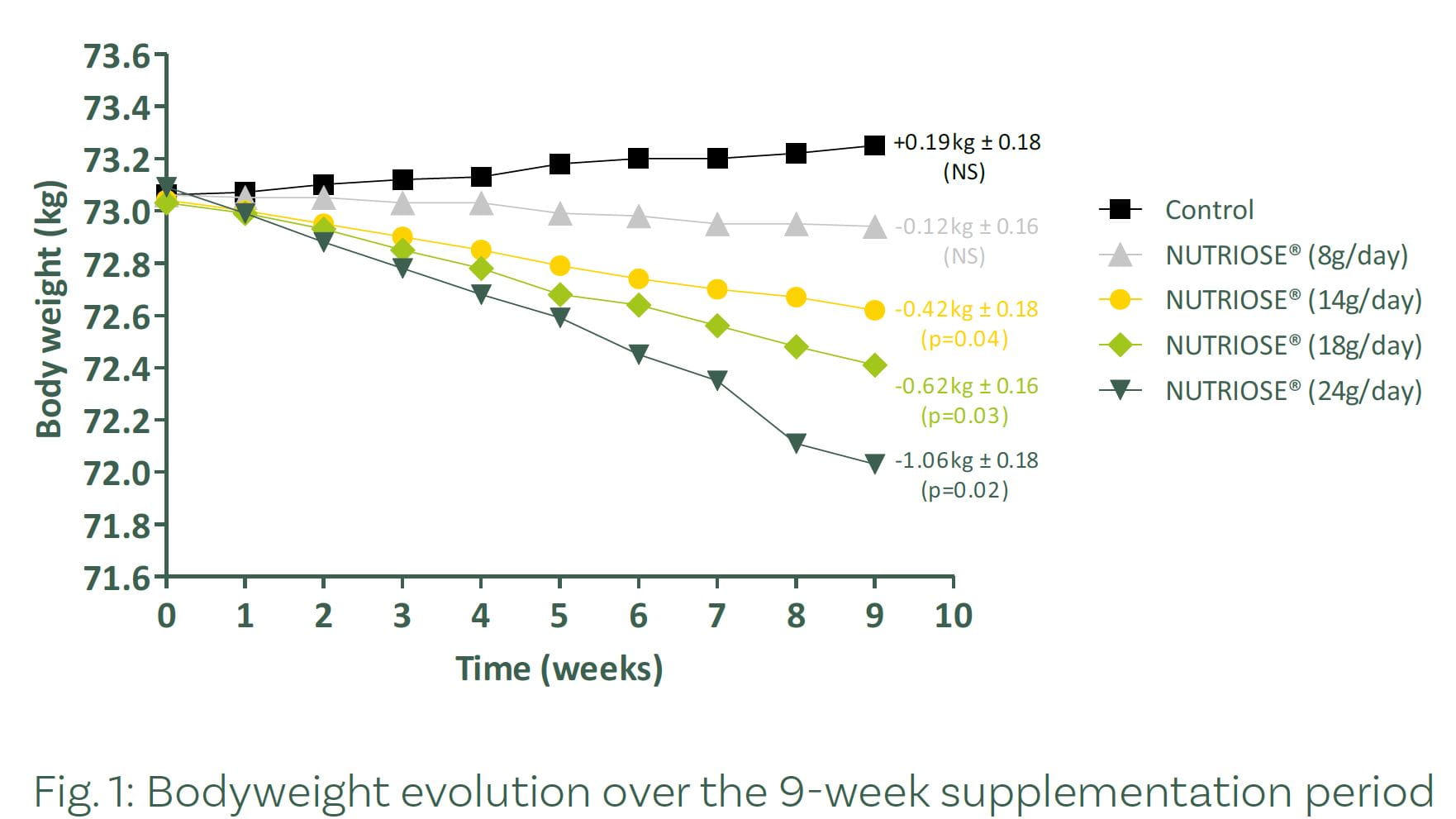 The shorter term study10 demonstrated that consuming 15g NUTRIOSE® for 28 days increased fasting satiety measured before breakfast as well as postprandial satiety and fullness responses from 30 minutes after the morning fiber intake. These findings together with the observed gut microbiota modulation suggest the role of the gut fermentation in modulating subjective appetite-related parameters.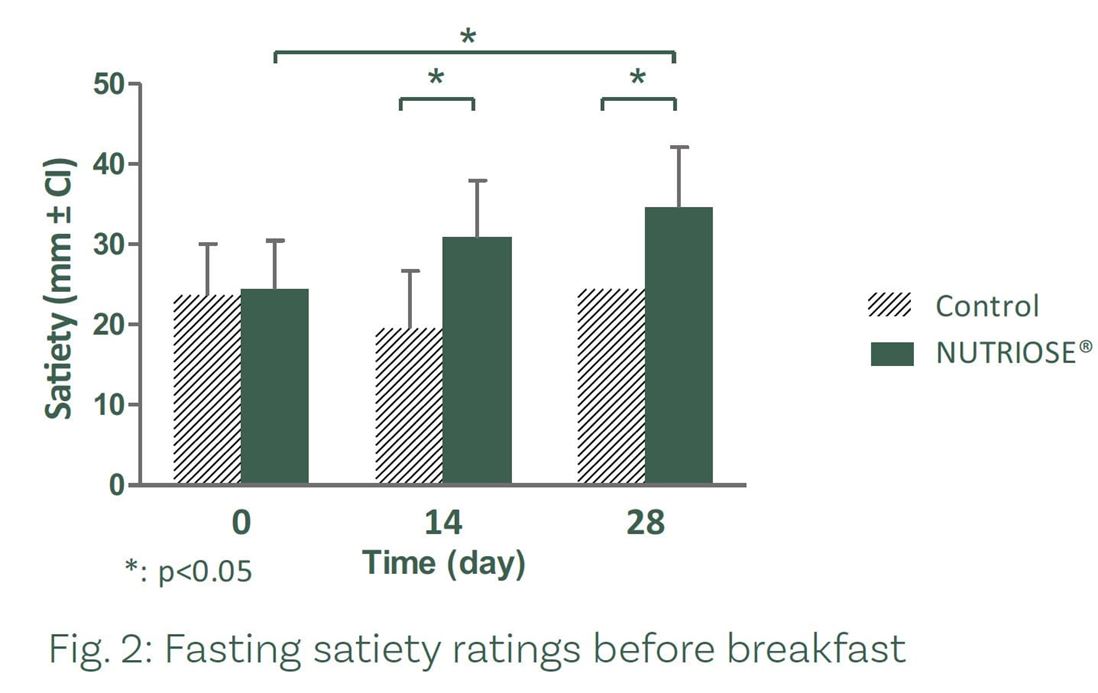 A FIBER WITH PROMISING BENEFITS ON METABOLIC SYNDROME MARKERS
Metabolic syndrome is the scientific term for a combination of parameters related to obesity, diabetes and hypertension. It is often associated with being overweight or obese and a lack of physical activity. Interestingly, several biomarkers of the metabolic syndrome were improved by 3 months NUTRIOSE® intake at 34g/ day in human study11: blood lipid profile, markers of insulin sensitivity as well as long-term blood glucose control. These results were confirmed in women with type 2 diabetes where the daily intake of 10g/day of NUTRIOSE® exhibited a significant decrease in insulin sensitivity at the end of an 8-week supplementation period12.

A FIBER THAT CAN EASILY HELP FILL THE FIBER GAP
An additional advantage of NUTRIOSE® soluble fiber is a nutrient that most people worldwide do not consume in adequate amounts. NUTRIOSE® soluble fiber has the advantage to fill this gap in nutrition. National dietary survey data revealed average fiber intakes of around 20g/day for men and around 15g/day for women. These intakes are well below the general recommendations included in guidelines developed by countries on the optimal daily intakes of fiber which are around 25g to 35g per day13. Fiber is starting to be considered a "nutrient of public health concern" in many countries. NUTRIOSE® swapped into commonly consumed foods for other carbohydrate sources or added to a meal has the potential to help improve fiber intakes for a healthy lifestyle.

NUTRIOSE® SOLUBLE FIBER: THE GOOD CHOICE THAT MAY SUPPORT HEALTHY WEIGHT MANAGEMENT BY PROMOTING SATIETY
Activities of fibers in the gut may lead to many health benefits beyond the digestive tract. Studies suggest that NUTRIOSE® soluble fiber may assist in bodyweight management by limiting calorie intake thanks to a positive impact on hunger and satiety. NUTRIOSE® is a good partner to fill the fiber gap without having to sacrifice taste and convenience with long-term impact on health benefits.
LIST OF REFERENCES
1. van Dam RM & Seidell JC (2007) Carbohydrate intake and obesity. Eur J Clin Nutr 61 Suppl 1, S75-S99.

2. Ley RE, Backhed F, Turnbaugh P, Lozupone CA, Knight RD & Gordon JI (2005) Obesity alters gut microbial ecology. Proc Natl Acad Sci U S A 102, 11070-11075.

3. Ley RE, Turnbaugh PJ, Klein S & Gordon JI (2006) Microbial ecology: human gut microbes associated with obesity. Nature 444, 1022-1023.

4. Stewart ML, Rushton A, Paredes-Diaz A, Savarino V and Slavin JL (2007) Wheat Dextrin (WD), Inulin, and Partially Hydrolyzed Guar Gum (PHGG) Produce Unique Short-Chain Fatty Acid Concentration in Model Colonic Fermentation. Gastroenterology, 132 (4 Suppl. 2): A-585.

5. Hamer HM, Jonkers D, Venema K, Vanhoutvin S, Troost FJ & Brummer RJ (2008) Review article: the role of butyrate on colonic function. Aliment Pharmacol Ther 27, 104-119.

6. Lal S, Kirkup AJ, Brunsden AM, Thompson DG & Grundy D (2001) Vagal afferent responses to fatty acids of different chain length in the rat. Am J Physiol Gastrointest Liver Physiol 281, G907-G915.

7. Delzenne NM, Cani PD & Neyrinck A (2008) Prebiotics and Lipid Metabolism. In Therapeutic Microbiology: Probiotics and Related Srategies, pp. 183-192 [Versalovic J. and Wilson M, editors]. Washington, DC: ASM Press
DISCLAIMER
The information contained in this document is to the best of our knowledge true and accurate, but all instructions, recommendations or suggestions are made without guarantee. Since the conditions of use are beyond our control, we disclaim any liability for loss and/or damage suffered from use of these data or suggestions. Furthermore, no liability is accepted if use of any product in accordance with these data or suggestions infringes any patent. No part of this document may be reproduced by any process without our prior written permission.

© Roquette Frères S.A. - 11/10 • 11th International Congress on Obesity (ICO 2010) - Stockholm (Sweden), 11-15 July, 2010.