How Can Functional Ingredients Support Healthy Weight Management and Active Lifestyles?
How Can Functional Ingredients Support Healthy Weight Management and Active Lifestyles?
"Must-have" functional advantage
Since the start of the COVID-19 pandemic, consumers are expecting and asking for more from the foods and supplements they eat. They are even willing to pay more for these benefits. This has created additional opportunities for food manufacturers to formulate in new ways while leveraging functional ingredients not only for their functional benefits but also for the sensory and technical advantages they can deliver
According to recent sales data from SPINS (powered by IRI), these are the areas showing the most growth in 2021 for functional ingredients:
Plant-based foods - credited with reducing cancer, health disease, stroke, and risk of diabetes.
Low glycemic and unsweetened foods - reduce sugar intake, which can reduce health risks and help consumers
Microbiome (gut) health - increasingly linked to improved overall health, including immunity, anxiety, and diseases.
Nutrient-dense diets - provide high doses of ingredients like proteins and ancient grains.
In a recent survey conducted by Innova Market Insights, respondents claim they are willing to pay more for products with these benefits, particularly the 26-45 age groups.
Survey question: Which of these features of food and drink do you think are worth paying more for?

Tackling "globesity"
When addressing the topic of weight management, the first thing that generally comes to mind is how to lose or maintain a healthy weight. With one of the top public health factors being the global obesity epidemic, also nicknamed "globesity" by the World Health Organization (WHO), this is a very serious health concern linked to weight management. Below are some global statistics.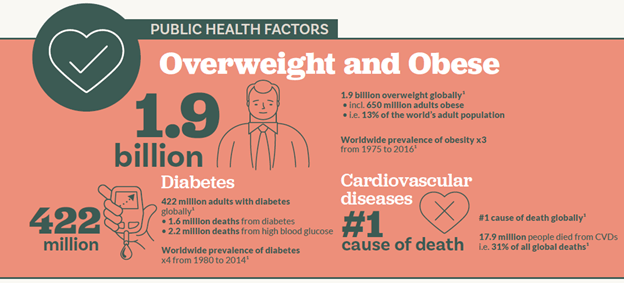 ¹ World Health Statistics 2016, World Health Organization, global statistics - adults aged 18 years and older, 2016.
² Global Burden of Disease Study, World Health Organization, 2017.
Being overweight or obese can lead to a wide variety of medical conditions, such as cardiovascular diseases (mainly heart disease and stroke), diabetes, musculoskeletal disorders and some cancers. These conditions can be prevented or reversed by implementing a proper diet and regular exercise.
For those who wish to live an active and healthy lifestyle, support muscle mass development and have sustained energy, this can be achieved by eating plant protein.
A gut feeling
Focusing on a more personalized diet has become one of the top actions today's consumers are now taking, aside from exercise. Popular diets like Keto, intermittent fasting, Low FODMAP, Whole30 and macro balancing shed light on new ways to shed pounds, but more and more consumers are realizing that proper weight management starts from the inside out.
Two main functional ingredients that support healthy weight management and active lifestyles are plant protein and soluble dietary fiber. According to Innova Market Insights, 40% of new protein products in 2020 also included a fiber claim. We are seeing more and more products with a combination of these two ingredients.
To support this, Roquette has conducted peer-reviewed studies on NUTRIOSE® soluble fiber and NUTRALYS® plant protein that show achievable healthy weight management through satiety that leaves you feeling fuller longer. Additionally, NUTRIOSE® soluble fiber delivers other health benefits that support gut and digestive health, and NUTRALYS® plant protein aids in muscle mass development and recovery.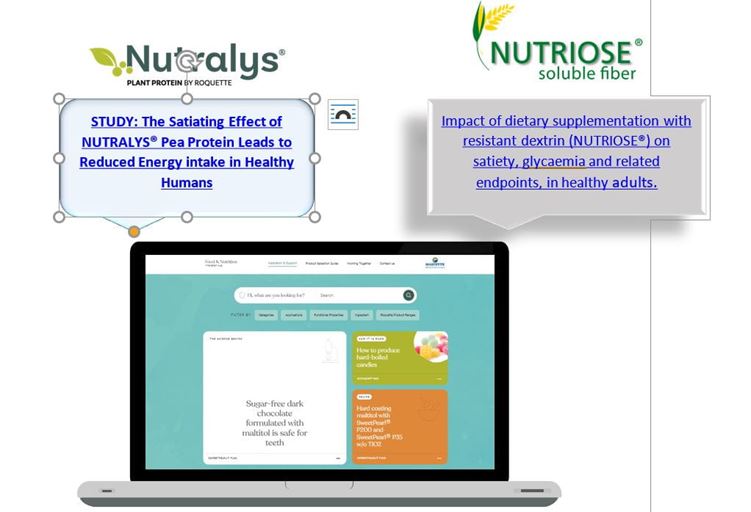 Conclusion:
It is easy to see how functional ingredients can support healthy weight management and active lifestyles. Whether you are looking to reduce your cholesterol, lower sugar intake or feel fuller longer, Roquette has a solution for you. Check out our plant protein and soluble dietary fiber to learn more.