Performance Materials
In a context of the global development of plant-based chemistry, Roquette offers the industrial markets new, innovative and sustainable monomers to create solutions for safer and more sustainable polymers.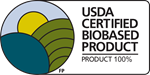 Roquette has earned the U.S. Department of Agriculture (USDA) Certified Biobased Product label.
Both POLYSORB® isosorbide and BIOSUCCINIUM® succinic acid are now able to display a unique USDA label that highlights its percentage of biobased content. It shows that both products contain 100% USDA certified biobased content.
The markets we serve
Automotive and Optical: Automotive textiles, Molded parts, Optical.
C.A.S.E.: Adhesives, Coatings, Elastomers, Sealants.
Plastic packaging: Biodegradable plastics, Recyclable plastics, Reusable plastics.
Sports, leisure and fibers: Elastic Fibers, Running shoes, Toys.
With more than 80 years of experience and know-how in plant-based polymer chemistry, Roquette's dedicated lab teams will guide you to new horizons.
Explore our resources
Conversation between Roquette and Novamont drives innovative, eco-friendly packaging solutions with bioplastics.

During this webinar, Roquette and Danimer experts share case studies on two-component coatings (2K coatings), aqueous dispersion, and casting applications.

Discover how Roquette plant-based monomer isosorbide brings superior mechanical properties and improved performance to polyurethane coatings.
Selected products
Improve the environmental footprint of your products with industry-leading bio-succinic acid.

Our plant-based solution for safe, sustainable and innovative performance materials.