Consumers Looking for Vegan Treats Want to Experiment with New Sensations from Confectioneries
Consumers Looking for Vegan Treats Want to Experiment with New Sensations from Confectioneries
Introduction
Consumer patterns are supported by three main pillars, in confectionery and beyond:
Better for the planet: Concerns for food safety (safety includes health and wellness, sustainability commitment).
Taste and indulgence: Indulgence as a reward, seeking premiumization and wellness, appealing appearance.
Better for you: A healthier diet, sugar in the spotlight, sports nutrition going mainstream, addressing specific needs for each life stage.
Consumer expectations tend to be holistic and gather those various trends in one tailored proposition.
Exploring texture while preserving cultural choices and/or animal welfare can be an illustration to meet those evolving consumer demands.
Gelatin-free on the move
Gelatin is the most significant animal-derived ingredient used in the sugar confectionery market; its removal is key to the vegan and plant-based movement. Suppliers are generally turning to pectin or starch ingredients to replace gelatin, and 16% of new product launches in 2020 carried a direct claim relating to the absence of gelatin.
Global confectionery: Trends in plant-based and vegan in key sub-categories (Index : 2016=100).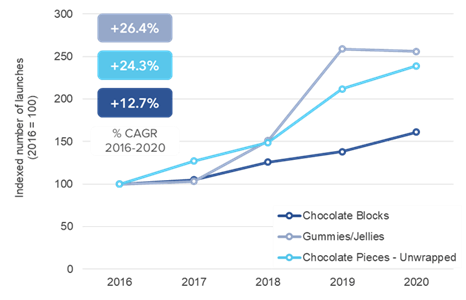 Source: Innova Market insights
Texture and indulgence: A reward
Nutrition remains a priority in consumer agenda, while indulgence stays a top priority, particularly in confectionery.
Top product features consumers willing to pay more for global category. % of respondents that agree

Source: Euromonitor international lifestyles survey 2017
Consumers increasingly recognize the influence of texture on food and beverages, allowing a heightened sensory experience and often a greater feeling of indulgence.
Attitudes to texture*
Approximately 73% of consumers say that texture adds interest to eating experiences, and 60% say it influences their purchasing decision.
Millennials and younger Gen X consumers are most likely to find interest and influence in texture, and are also most welcoming to combination textures.
Globally, Millennials are the most adventurous while Boomers are the least to do so.
Texture and ingredients*
A total of 48% of consumers agreed that they care more for the texture experience of a product than the ingredients list.
When it comes to specific ingredients, starch and gelatin were most familiar to consumers with carrageenan and gums less so.
Starch seems the ingredient with the most positive image for consumers.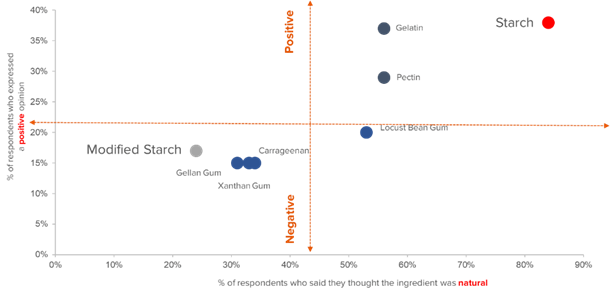 Starch stays a highly versatile, go-to ingredient. Native starch launches are growing more than twice as fast as modified starch (7.7% CAGR vs. 3.3%).
*Source: Innova Market Insights – Consumer insider "Texture & the consumer, 2020"
Conclusion
Extended expectations around the Clean and Clear agenda, specifically when talking about soft treats confectionery, stay a challenge for manufacturers. New solutions offer memorable experiences to address those rising needs. Animal-derivated or based, specifically on gelatin replacement in confectionery soft treats, is one of those needs. Roquette experts are available to collaborate and support your creativity.