Enabling sustainable materials with BIOSUCCINIUM® - bio succinic acid
Improve the environmental footprint of your products with industry-leading bio-succinic acid.
BIOSUCCINIUM® - bio succinic acid
Succinic acid is a chemical used directly in a variety of industry applications and as an intermediate for the production of several polymers and resins. Traditionally, it could only be produced from crude oil and natural gas. BIOSUCCINIUM® offers a renewable alternative. Biosuccinium® is produced via a patented fermentation process from sustainable biomass.
In addition to being a drop-in for petro-based succinic acid, it can also replace petro-based adipic acid. Compared to traditional di-acids, BIOSUCCINIUM®'s environmental footprint is much improved, which helps chemicals along the value chain meet your sustainability requirements.
BIOSUCCINIUM® is produced by Roquette under DSM's licence. Know more by reading the press release "DSM and Roquette take next step in bio-based succinic acid".

BIOSUCCINIUM® is Roquette's industry-leading bio-succinic acid, used as an ingredient in a wide variety of renewable industry applications and as an intermediate for bio-based polymers, resins, and much more.
BIOSUCCINIUM®S is a speciality grade bio-succinic acid. It is designed for industries which require high purity with arsenic, lead and mercury less than 0.1 ppm each.
Applications
Key applications for BIOSUCCINIUM® include polybutylene succinate (PBS), polyester polyols for polyurethanes, coating and composite resins, phthalate-free plasticizers, and 1,4 butanediol.
End products include packaging, disposable plastic-based products, composites, paints & coatings, sustainable sportswear, household, anti-corrosion and cooling fluids, and many more.
USDA Certification
Roquette has earned the U.S. Department of Agriculture (USDA) Certified Biobased Product label. The product, BIOSUCCINIUM® succinic acid, is now able to display a unique USDA label that highlights its percentage of biobased content. It shows that BIOSUCCINIUM® contains 100% USDA certified biobased content.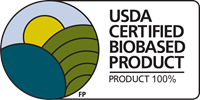 A focus on sustainability
BIOSUCCINIUM® is a 100% bio-based succinic acid with a best-in-class environmental footprint. Consumers and companies increasingly care about the environmental impact of the products they make or buy. Clearly, this driver comes on top of the traditional requirements for performance and economical. Biosuccinium® enables manufacturers and formulators to produce sustainable, bio-based products with substantially lower environmental footprints.
BIOSUCCINIUM
® is produced with a patented low pH, yeast-based technology, which has proven to be the most sustainable process for production of bio-based succinic acid. The proprietary production method emits significantly less greenhouse gas in comparison to alternatives; on the one hand it is a more efficient process, while at the same time it locks CO2 into the final succinic acid molecule.
Furthermore, the yeast-based process consumes less energy, and does not produce salts as a by-product, as opposed to alternative technologies such as bacterial-based fermentation. This is demonstrated by the Biosuccinium® lifecycle assessment (LCA), executed by the renowned Copernicus Institute. This LCA compares various production routes for bio-based succinic acid; the key findings are published in the peer-reviewed journal Biofpr and is available online.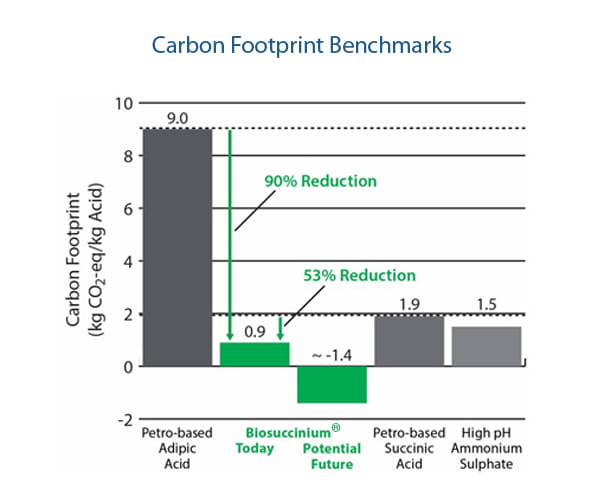 Find out how Biosuccinium® can meet your needs!
Get in touch with our experts for more information, samples or commercial quantities.
Resources
BIOSUCCINIUM®, 100% bio-based succinic acid, enables more sustainable materials and products.

BIOSUCCINIUM®, a 100% bio-based succinic acid, enables polyester polyol-based polyurethane products with substantially lower environmental footprint

BIOSUCCINIUM®, a 100% bio-based succinic acid, enables the production of a (partially) bio-based PBS with a substantially reduced carbon footprint.

BIOSUCCINIUM® is a 100% bio-based succinic acid that enables phthalate-free plasticizers with substantially reduced footprint.

BIOSUCCINIUM® is a 100% bio-based succinic acid that enables the production of polyester polyols and polyurethane products with lower environmental footprint.

BIOSUCCINIUM®, a 100% bio-based raw material, enables production of more sustainable polyester polyol (PESP) and polyurethane products.

BIOSUCCINIUM® 100% bio-based succinic acid enables production of more sustainable polyester polyol (PESP) and polyurethane (PU) products.

BIOSUCCINIUM®, a 100% bio-based succinic acid, enables resin, coating, adhesive and sealant products with lower environmental footprint.

Key benefits : Consistent and high quality product, Provide best in-class footprint

Key benefits : Validated 100% natural origin by ECOCERT, Halal, Kosher approved