Ready-to-Drink Vanilla Protein Shake
How to reach high-protein content and develop a complete nutritional drink with smooth and fluid texture
To view content relevant to you, please select your region:
Key attributes
Smooth texture
Nice vanilla flavor
High protein
Contributes to muscle mass maintenance
Key facts
NUTRALYS® pea protein
Delicious, nutritious and sustainable source of plant protein from the yellow pea
Helps support muscle mass maintenance*
Helps fill you up*
Helps moderate blood glucose peaks and dips*
Not a major allergen**
Non-GMO and gluten-free
Kosher and halal certified
* NUTRALYS® health benefits are supported by one single clinical study. Food manufacturers who would like to use NUTRALYS® pea protein for these benefits will have to run their own studies based on their own formulation.
** Pea is not listed among major allergens and intolerant agents in EU (Annex II Regulation 1169/2011) neither in the Codex list of allergens to be labeled (Codex Stan 1-1985 (Rev. 1-1991)-4.2.1.43). Due to a few rare reported allergic reactions with pea (and their derived products), we strongly suggest to our customer to list the botanical origin of their pea derived products in their ingredient statement.
NUTRIOSE® soluble fiber
Plant-based soluble dietary fiber from pea, corn or wheat
Outstanding digestive tolerance (up to 45g/day)
Clinical studies suggest benefits on digestive health and blood glucose management
Non-GMO and gluten-free
Key benefits
NUTRALYS® S85 Plus pea protein
NUTRIOSE® FM 06 soluble fiber

Nutritional

Premium quality pea protein isolate (85% protein on D.S.)
Easy to digest: 96% digestible
Well-balanced amino acid profile: 8.7g arginine, 18g of BCAAs and 7.1g of lysine per 100g of protein (Nx6x25)
Fast digesting profile as compared to casein and whey proteins

85% fiber on D.S.

Calorie value: 2.1Kcal/g
Low glycemic response (GR: 25)
Prebiotic effect

Functional

Easy-to-use: quick dispersibility in water

High solubility over a wide range of pH

Low viscosity to reach high protein level in beverages

Suitable for pasteurization and UHT process

Easy-to-use: quick dispersion and good solubility

Transparent in solution
High shelf life and excellent process stability

Sensory

Light taste for a similar indulgence as dairy protein powder

Good association with sweet and fruit flavors with low beany notes

Contributes to pleasant, velvety and smooth mouthfeel

Neutral taste

Contributes to rich mouthfeel
List of ingredients for the recipe
Skimmed milk
Milk protein isolate
Sugar
NUTRALYS® S85 Plus pea protein
NUTRIOSE® FM 06 soluble fiber
GLUCIDEX® IT 19 maltodextrin
Flavor
Carrageenan
The reference number of the recipe – LPNHPR018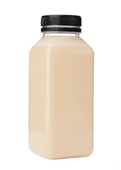 Nutrition facts
Energy
249

Fat

1.7

Carbohydrate

27.5
o

f which sugars

25.2

Fiber

2.8

Protein

30

Salt

0.67
Suggested claims (EU)*
High protein****
Contributes to muscle mass growth and maintenance****
Gluten-free
Low fat*****
*** Information based on EU regulations. Subject to applicable local laws and regulations.
**** High protein: At least 20% of the energy value provided by protein.
***** Low fat: No more than 1.5g of fat per 100mL
Disclaimer
This informative and technical document is provided for food business operators or healthcare professionals, including prospective customers for Roquette and not intended to be delivered as such to final consumers. Legal, regulatory, policies and requirements are subject to change and jurisdictional variation.
Want to know more?
Follow this link to visit the recipe with all the details
Links to pages of the products used within this concept