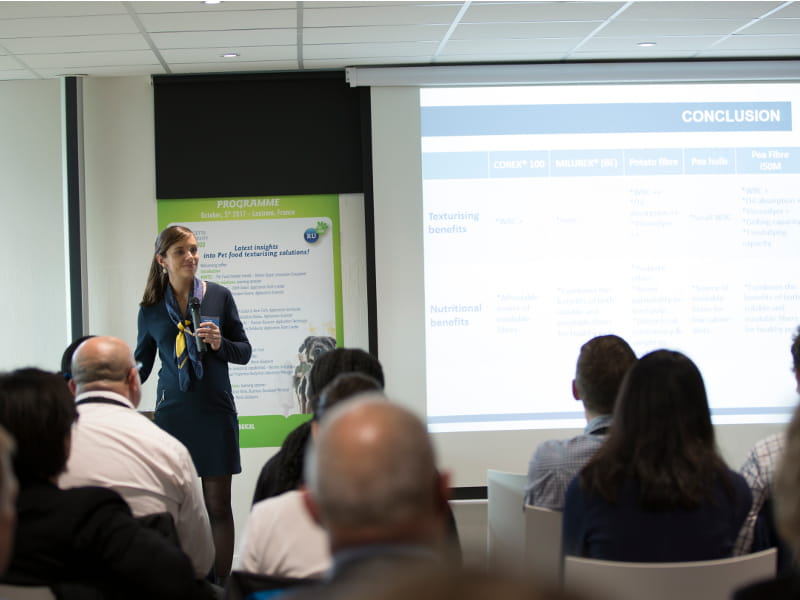 Discover how Roquette experts shared their latest insights about texturising solutions in Pet Food and much more!
Market trends, application workshops, learning sessions, and much more!
Relive the Roquette University Pet food by watching the video.
Some attendees' quotes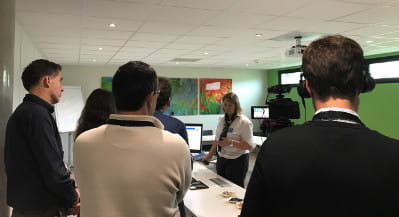 « It was very interesting to see, to touch, to experiment, to ask all the questions that came to my mind. That was a fruitful experience".
"These workshops were a very good opportunity to share with Roquette experts, but also with people from other companies, and exchange on the problems we are facing when making new developments".
Networking moments
The Lunch break
It was an opportunity for attendees and Roquette teams to share thoughts, ideas, projects, etc… around texturising solutions for pet food, and food!
Surrounding Posters
Plant-based protein texturisers, starches for pet food, attractive treats for pet, texturizing solutions, and nutritional and technological ingredients for Pet Food.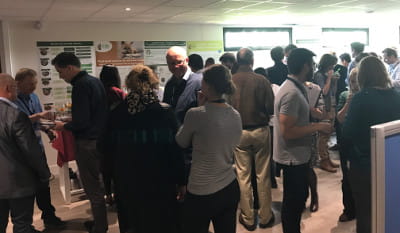 Roquette University Pet Food in a nutshell: Collaboration, Expertise, Sharing, and Networking!
Attendees and Roquette teams shared the feeling that meeting each other is essential, and this event was an opportunity of choice.
A focus on application workshops animated by Roquette's CTS (Customer Technical Center) team
Wet Pet Food
Dog pâté
Making cost reduction thanks to partial replacement of plasma by internal pea fibre I50M.
Achieving clean label texturizing solutions with Pea Fibre I50M in combination with carrageenans.
Gravy
Adapting the texture of your pet food by using the right modified starch.
Mousse
Achieving a good "mousse" with the foaming functionality of our emulsifying starches CLEARGUM® CO 01/03 (OSA).
Dry Pet Food
Gluten-free kibbles
Making cost reduction by replacing potato flakes with a combination of potato fibre, potato starch and potato protein.
Treats
Jerky treat
Achieving your texture requirements: study of the effect of pea protein and polyols in jerky product type.
Gluten-free biscuit
Discovering the benefits of native potato starch and PREGEGLO® P100 (pre-cooked potato starch).
Dental treats
Obtaining the right texture with native starches in combination with polyols.