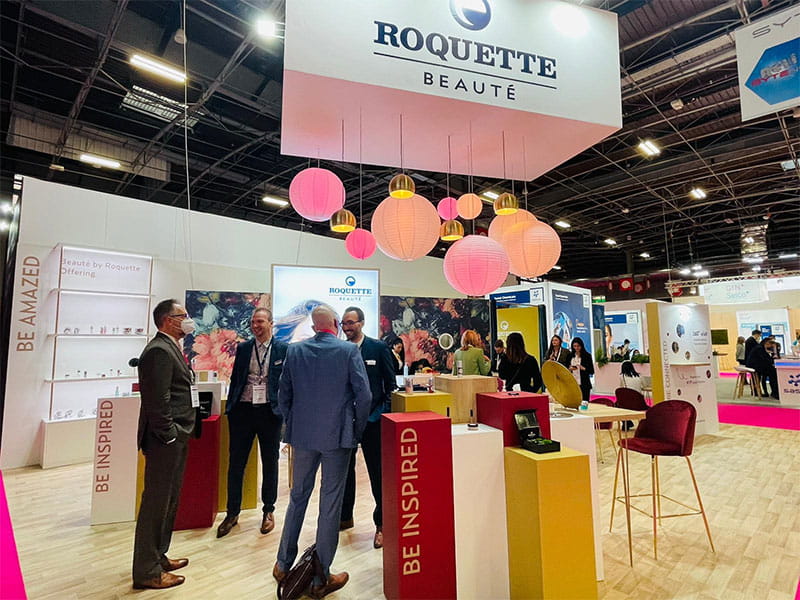 A wonderful journey filled with great experiences
At in-cosmetics® Global 2022 in Paris, beginning of April, the Roquette Beauté team invited visitors and customers on a journey filled with great experiences to re-connect after two years of postponing events or going virtual.
Among the highlights of the tradeshow, Roquette Beauté presented formulations for skin care and color cosmetics featuring a selection of the Beauté by Roquette® product offering showcased at the Sensory Bar.
During a formulation lab session, visitors had the occasion to discover the effectiveness of Beauté by Roquette® DS146 emulsifying system and create their very own O/W pickering emulsion with a dry and smooth skin feel.
At the sustainability corner and during a specific session, Ophélie Bourgon Area Market Manager, presented the essential priorities and commitments of the Roquette group in sustainability.
A Microbiome-Friendly Certification
The tradeshow was also an occasion for Roquette Beauté to unveil its latest addition to its product offering. Beauté by Roquette® DE 006 is a 100% plant-based soothing ingredient for skin and scalp and among the first ingredients in the cosmetics industry to be certified Microbiome-Friendly by MyMicrobiome. Learn more here.
Géraldine Louvet, Ophélie Bourgon and Daniel Wils from Roquette with Dr. Kristin Neumann from MyMicrobiome AG, receiving the Beauté by Roquette® DE 006 Microbiome-Friendly certification trophy.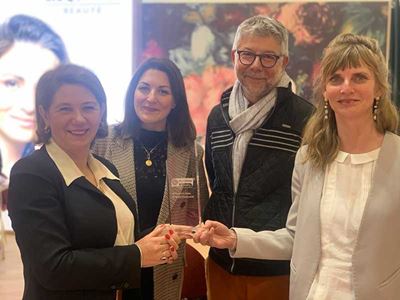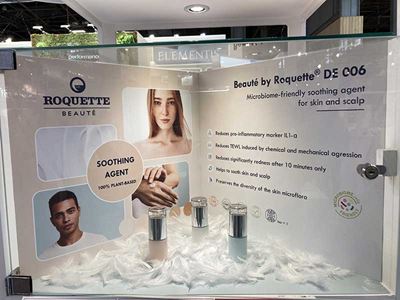 During a technical seminar, Géraldine Louvet-Pommier, R&D Applications Manager, presented on Beauté by Roquette® DE 006 and its performance benefits.
Visitors were also invited to discover and test it in a unique formula created for the show at the innovation zone.
Thank you for living the Roquette Beauté Experience with us at in-cosmetics® global.