How to produce hard-boiled candies
How to produce hard-boiled candies
This article explains the basics of HBC (hard-boiled candy) production: the ingredients, the process, and the quality to observe during the shelf life of the finished products.
Hard-boiled candies (HBC) are the base for the well-known lollipop format, s refreshing mints or fruit flavor confectionery. The hard texture makes it last longer with a slow dissolution in the mouth due to its inherit hardness not easy to break with a bite.
It can be full of colors, opaque (with a frosting/image 1), with a satin effect, translucent or totally transparent (image 2) depending on the recipe and the technology used.
| | |
| --- | --- |
| | |
| Image 1 | Image 2 |
Hard-boiled candies production:
It starts with syrup made of sugar, glucose syrup, and water for regular HBC or LYCASIN® HBC (Roquette ready-to-use maltitol syrup) for the sugar–free version.
The cooking stage consists of dissolving and concentrating the slurry in a batch cooker (figure 1) or continuous cooker (figure 2) until the residual moisture reduces to 1% to 3%, depending on process and recipe. For this, cooking temperatures could be as high as 155°C at atmospheric pressure or lower if the cooker is equipped with a vacuum chamber.
| | |
| --- | --- |
| | |
| Figure 1: Batch cooker | Figure 2: Continuous cooker |
It is then cooled down to reach 105°C to 90°C before the addition of flavor, color and acids.
For the forming stage, there are two main technologies: depositing and stamping.

Depositing:

The cooked syrup is deposited in a solid mold, cooled down and demolded thanks to mechanical action.
Deposited HBC are generally very transparent, smooth, and have a little mark of the ejection pistons.

Stamping:

The cooked syrup is cooled down until the mass becomes viscous enough to be manipulated into a rotary die or a chain die.

It requires a lower temperature for forming. When using LYCASIN® HBC maltitol syrup in sugar-free candies, the viscosity increases faster, and thus, energy can be saved by avoiding extensive cooling.

The dough goes through rope sizers and rotative punches to form individual pieces. During the rope forming, we can inject liquid or powder fillings.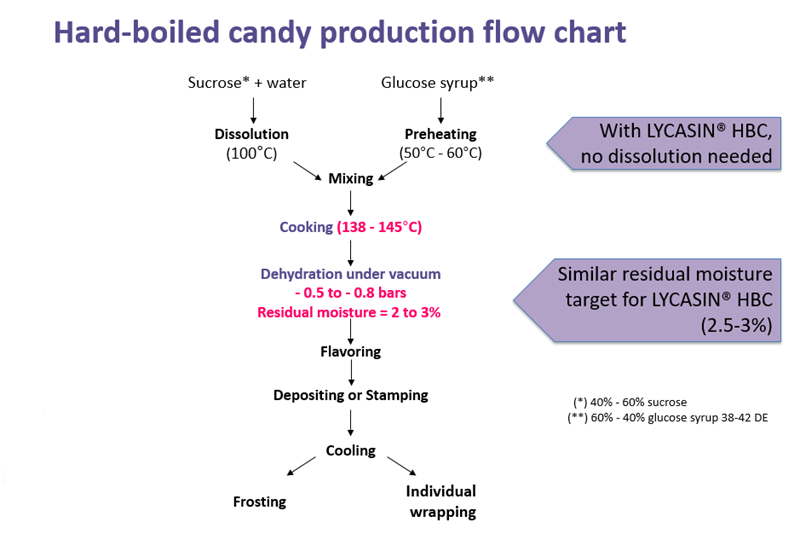 Visual aspect and shelf life:
It is important to control the recipe as well as the process. Indeed, for regular sugar-based HBC, the production of invert sugar during cooking and flavoring (especially acidification) can be dramatic for the overall quality and shelf life. With LYCASIN® HBC maltitol syrup, there is no risk of degradation during cooking and flavoring.
Furthermore, the recipe crystallization capacity after cooling will influence the shelf life and visual aspect:
If no crystallization appears within the hours following the production, the product could have a tendency to capture the air humidity, and thus, to become sticky.
On the opposite hand, a high rate of crystallization will lead to high opacity of the sweet and lack of cohesiveness in the long term: it is the graining phenomena.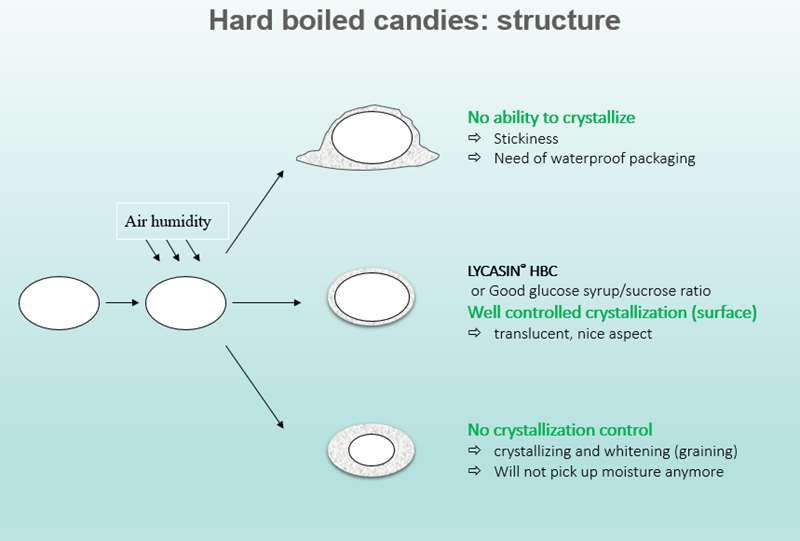 This is why Roquette designed LYCASIN® HBC maltitol syrup to overcome hard-boiled candies' constraints.