Roquette LYCOAT® ReadiLYCOAT®, the outstanding coating solution
Is a standard coating solution only just good enough for you?
Discover our LYCOAT® ReadiLYCOAT®, a natural inert polymer and ready-to-use coating system for fast aqueous film coating saves up to 50% or more time.
LYCOAT® Key benefits
Natural origin, no solvent
The origin of LYCOAT® polymers is natural, vegetal and renewable. Obtained from the pea, the LYCOAT® manufacturing process uses water as the sole solvent. LYCOAT® RS 720 is the medium viscosity grade, LYCOAT® RS 780 is the low viscosity grade.
Superior organoleptic properties.
Compared to synthetic or highly modified polymers, LYCOAT® has a pleasant neutral odour and taste
TEST 1
TEST 2
Preference

HPMC

LYCOAT

PVA

LYCOAT
Odour (n=15)
20%
80%
7%
93%
Taste (n=14)
14%
86%
0%
100%
Quick coating
High solids content coating suspensions allow you to save up to 50% of coating time.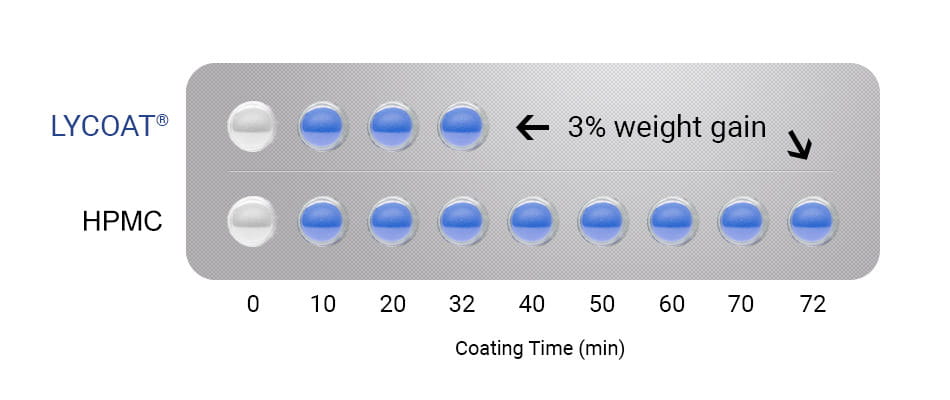 ReadiLycoat® key benefits
ReadiLYCOAT® coating systems are designed to facilitate your coating operations and composition can be adapted to each of your needs in compliance with regulations.
ReadiLYCOAT® improves the appearance of your tablets, capsules and granules.
ReadiLYCOAT® MS also provides protection against moisture.
Lycoat ReadyLycoat® at a glance
Expertise at your service
On-site assistance
Assistance for your trials
Process parameters optimization
Technical assistance
Development of «in-house» formulation
Feasibility trials: send us your tablet
Troubleshooting solutions
Colour matching solutions
Contact us for more information
On-site assistance (trials, process optimization)
Feasibility trial (send us your tablet)
Troubleshooting
Develop an «in house» coating formulation
Colour matching (ready mix coating system)
Sample request
Or any other subject, etc.