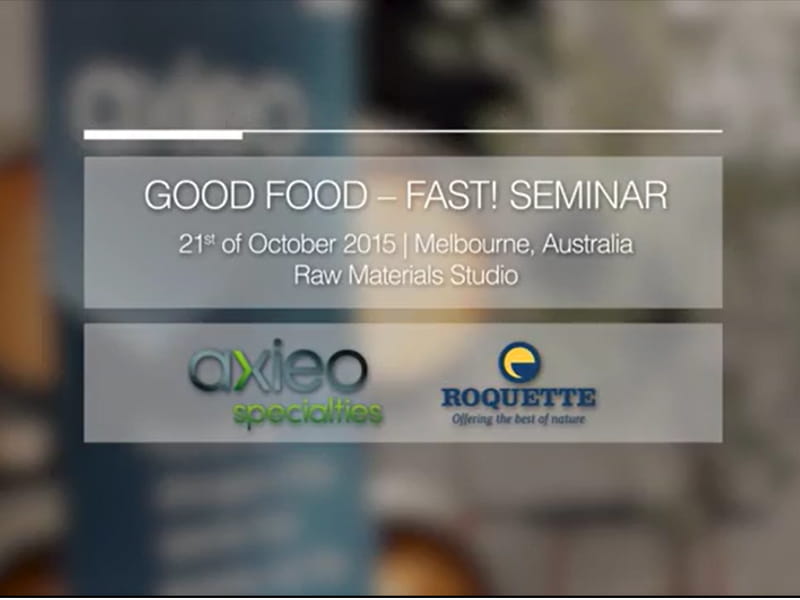 On October 21st, 2015, Roquette and its distributor Axieo Specialties jointly organized an Innovation & Nutrition seminar in Melbourne (Australia), to which they invited their customers and prospects.
This event gave us the opportunity to present our specialties and super specialties used in various Nutrition applications and that perfectly meet the needs of current global and local customers.
Smart carbs combination, efficient hydration, high energy, 100 % natural origin with GLUCIDEX©

High in protein 50:50 vegetable/milk protein combination, muscle mass maintenance, optimum amino acid supply, feel full for longer

High in protein: 25% protein, 100% pea protein, dairy free, muscle mass maintenance, feel full for longer with NUTRALYS® pea protein

Support cognitive development, convenient format, sugars-free, vegan with CLEARGUM© and LYCASIN©

Discover the strategies developed by Roquette to provide consumers with healthy snacking.

Discover our webinar and new concepts.
Meet our teams at the American Association of Pharmaceutical Scientists Annual meeting and exposition.

Meet our teams at the 13th International Exhibition & Conference on Pulp, Paper & Allied Industries.

Meet Roquette experts to discover our range of biobased solutions for water treatment: NAIACLEAR®.

Meet our teams at Recent Advances in Fermentation Technology 2017.

Meet our teams at CPHI Worldwide.

Meet Roquette's teams at the most important international meeting point for the cereal, agrifood and feed business in 2017.

Latest insights into pet food texturising solutions.

Roquette sponsors the 10th Protein Summit 2017.

Meet the Roquette team to learn more about our latest innovations in Specialized Nutrition, Nutraceuticals, OTC and much more!

Meet our teams at Bioprocess international conference and exhibition.

Reliable and sustainable products for on farm feeding.

Reliable and sustainable products for piglets feeding.

Reliable and sustainable products for aquafeed.

Reliable and sustainable products for nutritional specialties.

Reliable and sustainable products for milk replacers and dry feed solutions.

Reliable and sustainable products for compound feed.

Did you know that by including pea protein in our daily diet, we can balance our food intake and contribute to improving the health of the planet?

Itacel is a leading player in the pharmaceutical excipients market in Brazil and Latin America.

A co-processed product used as a secondary stabilizer and suspension agent in semi-solides formulas.

A partially depolymerized cellulose widely used in direct compression or in dry and wet granulation process.

A superdisintegrant that has excellent performance and cost-benefits.

A highly efficient superdisintegrant with high efficiency even when used in lower doses.

When it comes to meeting the challenges of formulation, you need more than just an ingredient supplier.

Meet the Roquette team to learn more about our latest innovations in Specialized Nutrition, Nutraceuticals, OTC and much more!

New Research and Development and Customer Technical Service facility opening in Fall 2017.

New Research and Development and Customer Technical Service facility opening in Fall 2017