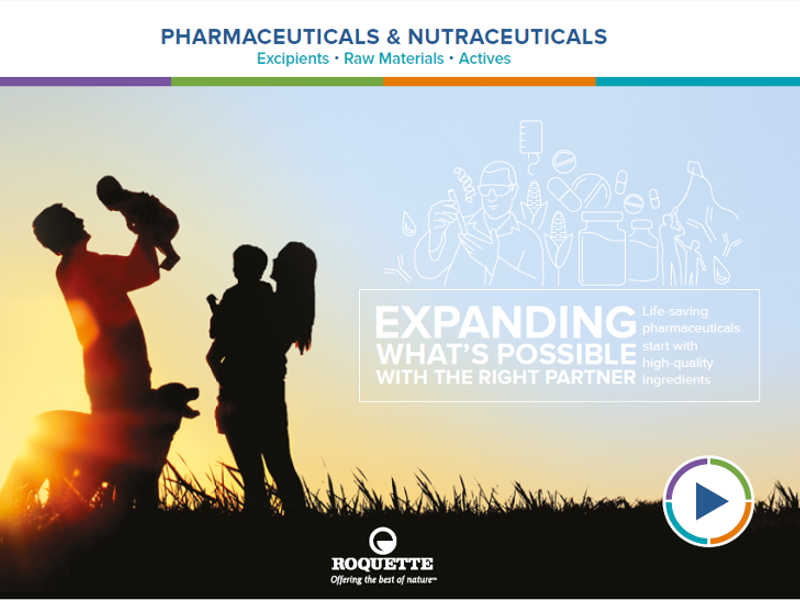 Excipients, raw materials and actives for Oral dosage, Nutraceuticals & OTC, Biopharma, and Injectables & Dialysis.
Customizing oral delivery forms - the healthy way!

See video

New classes of biotherapeutics bring new formulation challenges. Rely on Roquette to deliver solutions that resolve protein stability challenges impacting your biopharmaceutical development.

See brochure

Trust in Roquette to help bring your biologics to life with Dextrose Anhydrous BioPharma and LYCADEX® Biopharma Dextrose Monohydrate.

See brochure

Don't let poor bioavailability hold you back. Advance your oral dosage forms with our versatile solubilizing solutions.

See brochure

Discover images of the official ceremony and the presentation of these new state-of-the-art facilities.

See video

Customizing appealing dosage forms with the right partner.

See brochure
Meet Pharma team at this event.

Roquette expert to give a talk on new solutions for thermosetting resins and composites empowered by POLYSORB® Isosorbide.

This webinar is organised by our experts in Asia to present you the tactics & the techniques to achieve your goal!

Roquette speaks at the event as part of the Food Innovation Track of the conference on September 19.

Roquette expert to present Novels tools for protein stabilization during Solutions spotlights session on September 11th at 9:55 AM.

Roquette Technical Applications Specialist to give a lecture on "Exploration of anti-aggregation and protein stabilization properties of novel carbohydrates".

Meet our experts at The Biopharma Symposium in Singapore!

By adding yellow pea as part of the botanical sources of NUTRIOSE®, Roquette increases its ingredient's value proposition to the food sector.

Roquette, a global leader in plant-based ingredients, celebrates the 40th anniversary of its presence in the United States.

Great taste experience, Nice bite with SweatPearl® maltitol

Sugars-free, Great taste, Free from intensive sweeteners with SweatPearl® maltitol

Sethness is the worldwide leader in the production of caramel color. With this acquisition, Roquette is to reinforce its global leadership in the Food & Beverage industry.

Developing indulgent meat-free products with pea protein has never been so easy!

Following the announcement from the FDA, food producers can continue to describe NUTRIOSE® as a fiber in the nutritional information of their products.