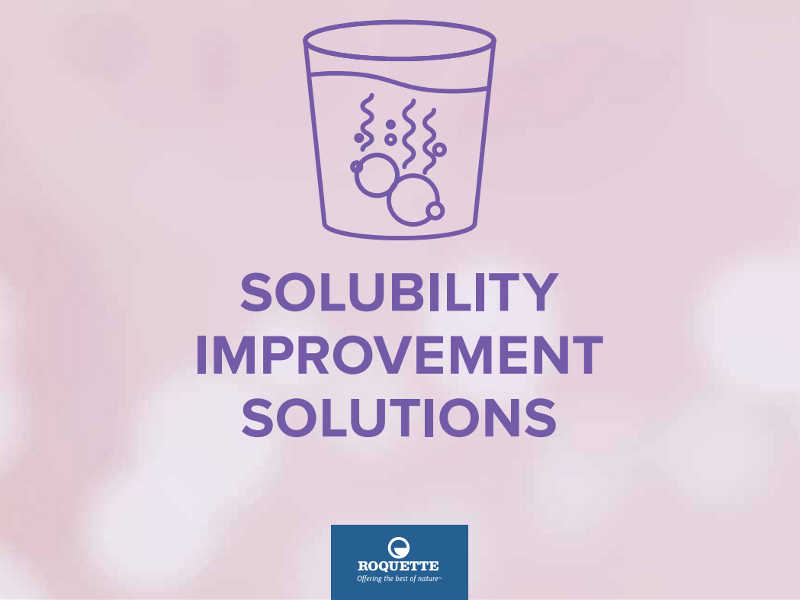 Don't let poor bioavailability hold you back. Advance your oral dosage forms with our versatile solubilizing solutions.
PEARLITOL® SW-F (wheat-free) mannitol for gluten-free nutraceutical dosage forms

See brochure

Enable effective drug manufacturing and enhance patient compliance with our expansive range of reliable fillers and filler-binders.

See brochure

Designed with functionality and flexibility in mind, our range of binders enable robust formulations - no matter the process.

See brochure

Improve consumer compliance by relying on Roquette's excipients to formulate stable, easy-to-administer Oral Disintegrating Tablets (ODT).

See brochure

An ageing global population, consumer demand for greater convenience and the need to improve patient compliance are driving the development of new platforms for orally disintegrating dosage forms. Discover Roquette latest innovations.

See brochure

Customizing oral delivery forms - the healthy way!

See video
Wish to deliver innovative, convenient and healthier foods & supplements? Meat Roquette Food and Pharma teams at Vitafoods.

Discover our latest innovations in plant-based excipients and life-saving active ingredients.

Meet Roquette's experts during the 26th edition of the China International Disposable Paper EXPO to discuss about new solutions developed from renewable sources.

Roquette Beauté latest plant-based innovations for unique textures and enhanced performance.

A multi-compendial excipient for efficient drug delivery

The company aims to be recognized as an expert in plant-based cosmetic ingredients.

PEARLITOL® SW-F (wheat-free) mannitol for gluten-free nutraceutical dosage forms

Following the successful production of biosuccinic acid under the trademark Biosuccinium® since 2012, Reverdia's parent companies — Royal DSM and Roquette — have decided on a strategic shift in the continuing operations of their joint venture.

See how our teams collaborated to develop a delicious and nutritious cold brew coffee beverage.

Discover two new products in the STABILYS®EVO range, which position Roquette in the growing markets of special paper and coated cardboard.

Roquette is carrying out studies to improve the digestive wellness of piglets with 2 universities to confirm trials' results.

A pioneer of new plant proteins, Roquette offers a wide range of non-GMO pea products to meet the various demands of the animal nutrition market.

In a context of increasing worlwide demand for fish, replacing animal proteins with plant proteins is necessary to meet three challenges: availability, quality and sustainable development.

Discover our solutions to advance and optimize production in industrial fermentation applications, from probiotics to biofuel to laundry detergent.