In the European food and beverages market, the "organic" claim is a hot topic. The percentage of new product developments (NPD) carrying organic positioning has risen from 16.5% in 2015 to 23.8% in 2019.*
Among the markets carrying the maximum number of organic claims in 2020, the baby food market featured as the #1 category globally. And if we focus on ingredients, 65% of new product launches with organic maltodextrins were for baby formula/milk, baby cereals and biscuits. Western Europe is the main region with Germany at the top, then France and Belgium.
Why such a growth?
If we look at trends among parents globally, according to YOOJI founder, Frédéric Ventre, "Parents of babies are Millennials, and Millennials are increasingly health conscious. They want natural, minimally-processed foods, and the stakes are higher for their babies. Organic food is seen as better by some parents, as long as they can afford to trade up."
Now more than ever, parents look to feed their babies with the highest quality products available, free from the use of pesticides and artificial ingredients; clean label products are becoming more important to the consumer. The organic sector will see continual NPD growth across all infant nutrition categories.
Moreover, the recent health crisis has boosted sales of premium and organic products.
For new parents who need to have peace of mind knowing they are getting highly reliable, organic and safe food for their little babies, Roquette provides organic maltodextrins. Thanks to GLUCIDEX® Premium Organic range of carbs, their babies will benefit from:
Unquestionable safery
Excellent digestive tolerance
Efficient hydration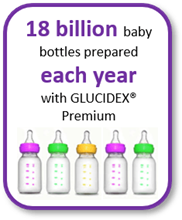 Many customers are already trusting GLUCIDEX® Premium for infant dry mix formulae, and now GLUCIDEX® Premium is available in organic range.
Why such a success?
First, with Roquette's more than 10 years of experience, customers can be sure of the top-class manufacturing facilities, as well as the best hygiene and manufacturing practices.
Now regarding the GLUCIDEX® Premium Organic range, it is offering safe and high tolerance energy for the healthy growth of our babies:
GLUCIDEX® Premium is 100% glucose-based energy
It brings energy for the muscles

: During effort, glucose is taken up from the bloodstream by muscular cells to be turned into energy thanks to the Krebs cycle. After effort, glucose is turned into glycogen to replenish muscles' energy stores.

It also brings energy for the brain

: Glucose provides energy to the neurons. It's the only energy substrate that is used by the central nervous system.
Fructose also provides energy, but it has been shown to elevate blood triglycerides and LDL ("bad cholesterol") after a meal. This effect is higher than what is observed with glucose.**
Partial replacement of lactose with maltodextrins led to improvement of crying and digestive discomfort in infants
Lactose may not be completely digested in the small intestine by young babies and lead to fermentation in gut and generate gas, discomfort, which may be linked to colic and crying.
Clinical evaluation showed a significant improvement when the lactose is partially replaced by maltodextrins.
The level of hydrogen in babies' breath was decreased by 70% following the intervention (p<0.01). Consequently, discomfort and crying were significantly decreased.
GLUCIDEX® Premium range is also suitable for comfort formulae without lactose.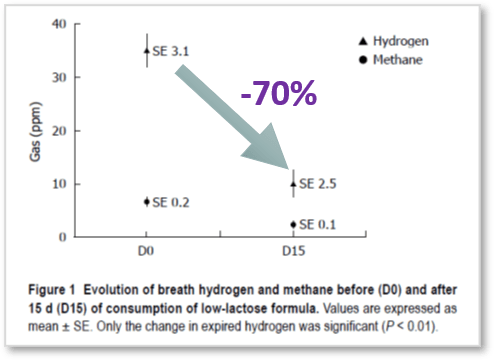 A full range of DE to allow fine-tuning of product osmolarity: ensures good hydration
Osmolarity influences hydration: For optimum hydration, the drink osmolarity needs to be close to the body osmolarity (280-320 mOsm/kg). It has to be ≤ 300 mOsm/kg to be hypo or isotonic, corresponding to hydration. Above 300 mOsm/kg, it can cause body dehydration and diarrhea.
Glucose as hydration booster

: in the intestine, water is absorbed together with glucose and sodium. As GLUCIDEX® maltodextrins are made of 100% glucose, it helps to stimulate hydration.
On top of all of these outstanding properties, the GLUCIDEX® Premium Organic range is organic certified from ECOCERT, available for EU and USA.
The demand of organics is at its highest level as consumers are putting premium and clean labels before price across several food and beverage categories. To answer this market demand, Roquette offers to baby food actors a range of organic ingredients that can reassure consumers in terms of safety and quality of the main ingredients used in the finish product.
Contact us for more information
* source: Innova Market Insights, 2019
** source: Sievenpiper et al., 2014; Havel, 2005; Aeberli et al., 2011