On the Roquette booth, we displayed several food concepts that were highly appreciated by different types of consumers:
Eco-minded fitness enthusiasts
Parents trying to give their child the best start in life
Baby-boomers looking for combining indulgence with healthy lifestyle
... and many others!
The Roquette team invited the visitors to its Creatilicious™ Bar** to taste its food concepts supporting these consumer trends:
A refreshing coconut isotonic beverage with GLUCIDEX® maltodextrins and Roquette dextrose
Iron-rich gummies for genius minds with CLEARGUM® starches and LYCASIN® maltitol syrup
High-protein vegan bars with NUTRALYS® pea protein
High-protein instant soup with the GLUCIDEX® range of carbohydrates and NUTRALYS® pea protein
Roquette experts would be delighted to further exchange with you on these exciting solutions. Feel free to contact us for that!
For its 21st edition, more than 18 500 visitors attended the only event covering the industry's four key areas from ingredient to shelf: ingredients and raw materials, contract manufacturing and private label, services & equipment, and branded finished products.
This dedicated nutraceuticals trade show gathered most of the international players of this market, which is set to reach a value of $385 billion by 2020*.
Visit us during our next events and also next year at Vitafoods Europe 2018 from May 15th to the 17th!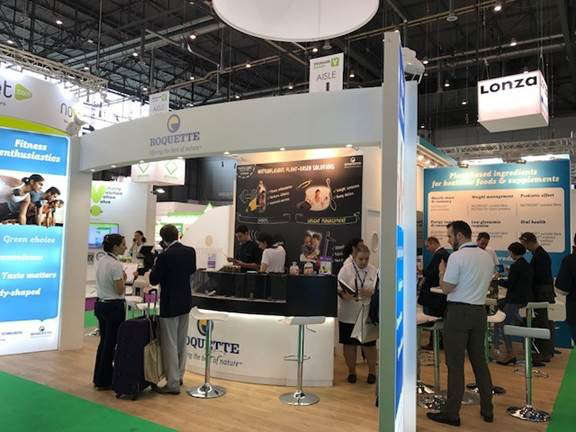 * Global Nutraceuticals Market - Growth, Trends and Forecast (2016-2021). mordorintelligence.com. August 2016
** The Creatilicious™ Bar perfects the science of collaboration and the art of delicious food for a healthier lifestyle
Discover more about our participation in Food Protein Vision - 7-9th March 2018, Amsterdam.

With the CREATILICIOUS™ BAR, an exciting journey into creative and delicious street foods, with a hint of a French touch.

28-30 Nov 2017, Frankfurt Booth F43, Hall 8
Welcome to our CREATILICIOUS™ food truck!

31 Oct - 2 Nov, Dubai - Booth S3 D12
Visit us and learn more about Roquette new solutions for Confectionery and Specialized Nutrition.

9-11 Nov, Mumbai - Hall 6 Booth F1
Visit us and find out Roquette latest advances in Dairy, Confectionery and Specialized Nutrition tailored for India.

Join us October 26th to discuss about how today's packaged foods enable the plant-based lifestyle.