Food Protein Vision is a three-day new conference dedicated to Proteins. The Food Protein Vision community brings together leaders in Research & Development, Marketing and Business Strategy for the nutrition, food and drink businesses.

Overall, 100 specialists from Europe and overseas, including three Roquette experts, attended this first PROTEIN FOOD VISION event in Amsterdam.

(From the left: Catherine, Audrey and Bruno)
Bruno Gehin, Roquette Global New Proteins Projects Leader- hosted one of the roundtable lunch discussions about the future of protein ingredients in mainstream food.
Whey protein or milk? Plant based isolates or pea soup? It is clear that the mainstream food market is changing, but are pure protein ingredients the future of rich-in-protein foods?
Ingredient producers understand the business opportunity provided but the consumer and B2C may need more convincing.
Specialists joined Bruno to discuss what the purified protein sources can provide versus their counterparts in whole foods.

Catherine Lefranc-Millot, Senior Nutrition & Health R&D Manager, contributed to a rich and high-quality debate about Protein's health benefits, under the title "What does emerging science demonstrate about protein's health benefits?"

The Chair of this panel debate was Will Chu, Science Editor, FoodNavigator and the Panellists were Emma Feeney, Assistant Professor, Food Science and Human Nutrition, University College Dublin, Professor Ian Givens, Professor of Food Chain Nutrition and Director of the Institute for Food, Nutrition and Health, University of Reading, Professor Emma Stevenson, Professor of Sport and Exercise Science, Newcastle University, UK and Catherine.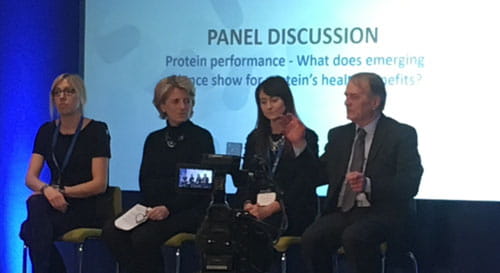 Catherine commented: "At Food protein Vision, a core concern was clearly the need to link sustainability and innovation in this field, and to focus on the sustainability and safety of new protein solutions. A concrete growing interest of the industry and the academics for finding new or alternative protein solutions, was evident and plant-based proteins, such as those we are able to provide at Roquette, were clearly a sought-after source."

Audrey Taffin – Global Market Manager specialized in Savory applications, exchanged views on stand with attendees about our NUTRALYS® range of pea proteins, the widest on the market today, its Food innovation possibilities and about Roquette's associated expertise and services.

Please don't

hesitate to contact our experts by filling in the contact form available at the top right of the page.