Join Roquette Food on FI Global Connect virtual tradeshow – 22 November / December 2nd 2022
Roquette will be present on FI Global Connect virtual tradeshow, from November 22nd to December 2nd 2022. Join our teams on this virtual event to deep dive into the food trends of tomorrow and learn how Roquette can help you meet rising consumer demands.
Attend our webinar and live Q&A on 22 November at 13:30
The world, as we know it, has changed. In this climate, how do these changes impact us and our food habits? Roquette offers a webinar within in the FI Global Connect Agenda, where our Food experts will talk about consumers' expectations and how food and beverage manufacturers can leverage these expectations to unlock new opportunities.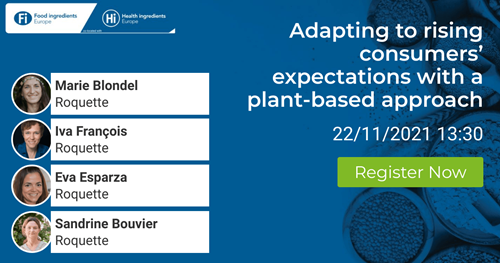 Visit Roquette online booth and chat with our teams
Discover more about Roquette and our food solutions: nutritional, texturizing and cost-efficient to help YOU formulate high-quality food for every kind of application. Get information on our high-quality ingredients and our range of plant-based solutions: plant proteins (pea- or wheat-based), soluble fibers, polyols, etc.
Our teams are available for online appointments and informal chats. Don't hesitate!
Not registered yet ? Get your FI Global Connect badge now!