Online event starting November 11, with a 2-hour live session on December 10 at 11:30 am CET
Satisfying, tasty, indulgent, nutritional and healthy food… We want it all, and we want it now!
At Roquette, we believe innovation and creativity are the keys to meet these rising consumer demands. That's why we decided to fuel your formulation ideas with original, online interactive content featured on our Food4ThoughtTV!
Find out how to formulate innovative, tasty, and high-quality food and beverages with a plant-based approach and how Roquette drives innovation to create nutritional, texturizing and cost-efficient solutions.
Don't miss this unique opportunity to discover more about our range of plant-based solutions and latest innovation moves.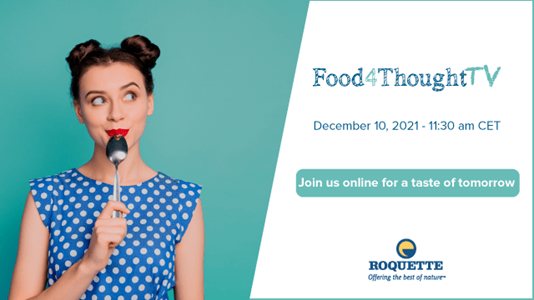 Starting November 11
Discover a series of on-demand content to feed your taste of tomorrow: webinars, concept sheets, trend report… and a few surprises and fun games along the way… because Christmas is coming!
On December 10 at 11:30 CET
Attend 2 hours of a live and interactive show:
expert interviews,
concept tastings,
ingredient demonstrations…
and the preparation of a delicious Christmas meal by Michelin star-winning French Chef Mathieu Boutroy.
Chat with Roquette experts and book 1-1 online meetings.