Taste Masking Acetaminophen Chewable Tablets Using Maltitol Plus Intense Sweetener Synergy
Taste Masking Acetaminophen Chewable Tablets Using Maltitol Plus Intense Sweetener Synergy
Situation
Numerous technologies are available to mask the bitterness of APIs, but their use in pediatric formulation is limited by the lack of safety data covering children as against adults. Acetaminophen (APAP) is a common medication used to treat infants for pain and fever. Its bitterness often leads to complex formulations, to try to improve acceptability to a child's palate. We evaluated the taste masking of APAP by combining a common intense sweetener (sucralose) and a common bulk sweetener (maltitol), both of which are already used in pediatric medicines.
Challenge
Determine if there is a specific property of sucralose as compared to other intense sweeteners (Saccharin Na, Acesulfame K or Aspartame), whose synergy with maltitol (SweetPearl® P300 DC) makes it possible to mask the bitterness of APAP.
Solution
Formula and compression: 
SweetPearl® P300 DC, 
Roquette**

Acetaminophen
powder Rhodapap™

Magnesium stearate, 
Baerlocher
* Quantities adjusted to take into account different sweetening powers (sucralose: 600-800x / saccharin Na: 300x/ acesulfame K: 200x / aspartame: 180-200x times sucrose's according to Leatherhead Food Research)

** In a first study on chewable acetaminophen tablets comparing taste and texture obtained using different DC polyols, an unexpected result was that formulations based on DC maltitol and sucralose were judged less bitter.
Methods:
TURBULA® mixer: Maltitol, Acetaminophen & intense sweetener for 2.5 min
Sieved at 1400 μm (remove the agglomerates)
Mixed for 2.5 min
Magnesium stearate is added and mixed for 5 min
Compression on a Korsch XP1 single punch tablet press (compression output rate: 20 tabs/minute)
Test panel:
In vivo study with 12 to 20 trained adults, depending on the test day:
individual tasting booth
white walls
calm atmosphere (to facilitate concentration)
white light (to produce the same perception of the product late morning or at the end of the afternoon [optimum time for tasting])
blinded products 3 numbers code (to avoid codification influence), products presented in random order (to avoid order effect and persistence)
goal is to rank products according to bitterness: 1 is the least bitter formulation and 4 is the most bitter
Results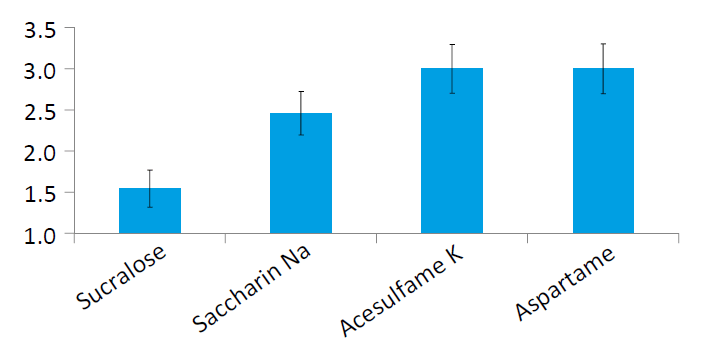 Graph A shows HSD Tukey test results on the F1 series (0.6% intense sweetener, 250 mg APAP per tablet). Maltitol-sucralose combination was evaluated as being succesful in masking the bitter taste of APAP, unlike maltitol-other intense sweeteners (F2 series were too sweet and too bitter, so evaluation was not possible). For F3 series with 0.3% of sucralose, all APAP tablets were judged to be bitter by the sensory panel, as compared to the tablets containing 0.6% sucralose. A minimum amount of sucralose therefore has to be added to the tablets to mask the bitterness of acetaminophen.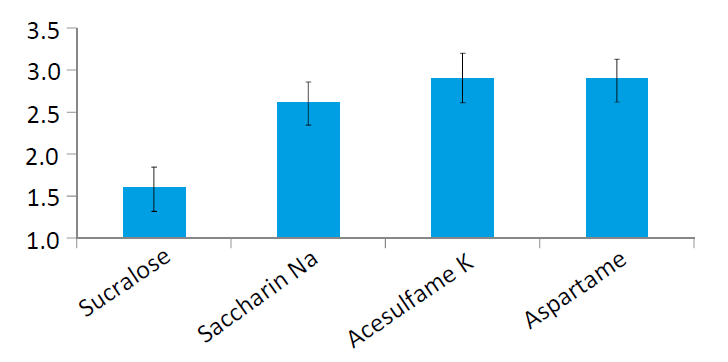 Graph B shows HSD Tukey test results on the F4 series (0.3% intense sweetener, 150 mg APAP per tablet). The ratio of APAP/Intense sweetener was reduced compared to the F3 series without changing formulation sweetening power. The maltitol-sucralose combination delivered the most effective APAP bitterness masking.
Conclusion
This study demonstrates the relevance of a maltitol-sucralose combination for masking the acetaminophen bitterness that could be extended to pediatric formulations. This effect is specific to sucralose as it was not observed with other intensive sweeteners and the APAP / maltitol / sucralose balance requires adjustment.
References
The information contained in this document is to the best of our knowledge true and accurate, but all instructions, recommendations or suggestions are made without guarantee. Since the conditions of use are beyond our control, we disclaim any liability for loss and/or damage suffered from use of these data or suggestions. Furthermore, no liability is accepted if use of any product in accordance with these data or suggestions infringes any patent. No part of this document may be reproduced by any process without our prior written permission.