LYSAMINE® GPS

- Pea protein
Non-allergenic | GMO-free | Pea protein | Texturizing agent | Nitrogen source for fermentation
A non-allergenic, GMO-free pea protein.
LYSAMINE® GP / NUTRALYS® S85F Pea protein

A specificity of non-allergenic GMO-free pea protein is an Amino acid profile similar to that of soy bean proteins.
Technically NUTRALYS® S85F can replace soy bean isolates in many applications.
Creamy-white powder
Pea protein composition
(Indicative values)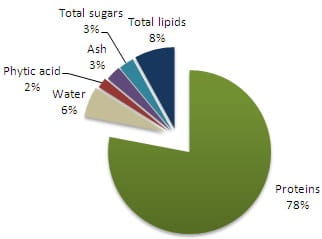 Properties
Nitrogen source for fermentation (isolate substitute, soy bean, casein, peptones)
Texturizing agent
Brands
LYSAMINE® GP (Insoluble Pea Protein): non food grade
NUTRALYS® S85F (Soluble Pea Protein): food grade
Food industries
Fermentation industries
Growth and cell viability of various micro-organisms on a Lysamine / Nutralys enriched medium/yeast extract enriched medium.
Composition and consistency studies.
Current packaging for this family of products
20-25 kg bag
1000 kg big-bag
Tank bulker
IBC
Explore our product resources
Plant-based nutrients, Processing aids, Reliability, Reproductibility

See leaflet
Quality & Security documents
Browse our quality documents and SDS in a few clicks
Get a sample or schedule an appointment with an expert?
For any technical or commercial information