Cookie policy
When you visit our websites, information about your browsing may be saved in small files called "cookies" that are saved to your terminal (computer, tablet, smartphone, etc.) in line with the choices you have made concerning these cookies, choices that you may change at any time.
The information below will help you better understand how cookies work and how to use the Privacy Preference Center.
What is a cookie?
A cookie is a small text file containing information, which is saved to the hard disk of your terminal (e.g., computer, tablet or cellphone) when you visit a website using your browser. It is transmitted by the website server to your browser.
The cookie enables its sender to identify the terminal on which it is saved, for the period of validity or conservation of the cookie concerned.
Only the sender of a cookie is able to read or edit the information it contains.
Why do we use cookies?
We use several categories of cookies, the purposes of which are described below.
◘ Strictly necessary cookies
These cookies are necessary for the website to function and cannot be switched off in our systems. They are usually only set in response to actions made by you which amount to a request for services, such as setting your privacy preferences, logging in or filling in forms.
You can set your browser to block or alert you about these cookies, but some parts of the site will not then work.
These cookies do not store any personally identifiable information.
◘ Performance cookies
These cookies allow us to count visits and traffic sources so we can measure and improve the performance of our site. They help us to know which pages are the most and least popular and see how visitors move around the site. All information these cookies collect is aggregated and therefore anonymous.
If you do not allow these cookies we will not know when you have visited our site, and will not be able to monitor its performance.
◘ Functional cookies
These cookies enable the website to provide enhanced functionality and personalisation. They may be set by us or by third party providers whose services we have added to our pages.
If you do not allow these cookies then some or all of these services may not function properly.
◘ Targeting cookies
These cookies may be set through our site by our advertising partners. They may be used by those companies to build a profile of your interests and show you relevant adverts on other sites.
They do not store directly personal information but are based on uniquely identifying your browser and internet device.
If you do not allow these cookies, you will experience less targeted advertising.
◘ Our audience measurement tool
We use the audience measurement tool "AT Internet".
Our audience measurement cookies allow us to measure the audience of our sites (the number of visits, the number of pages seen, the activity of visitors on the site and their frequency of return).
Our cookies are exempt from consent as allowed by the CNIL deliberation n°2020-091, insofar as they are strictly necessary for the operation of the site.
You can object to the processing of your navigation data: please click
here
Unsubscribed from GTM tracking
Please note that if you opt-out, we will no longer be able to measure and improve our sites in an optimal way.
Moreover, we carry out a broader measurement of audience when the Internet user has consented to this additional purpose.
For more information, see the section "Data collected automatically via our audience measurement solution" below.
◘ Data collected automatically via our audience measurement solution.
To carry out our audience measurement, we collect the following information:
Identifier information: cookie ID, mobile ID, IP address. After collection, it is used in real-time processing to generate a visitor ID (by applying hash functions to the source data) and to calculate geolocation information (which cannot be more precise than the city or region level depending on the country). The raw information collected does not go back into our interfaces.
Digital Analytics information (this is data about the user's navigation):
the type of browser used,
the number of pages viewed,
the exact navigation path that a visitor takes on the site,
the time spent on a page, or the entire site,
...
In the framework of the definitions given by article 4 of the RGPD, we consider that all the data we collect is considered as "personal data" and as such we apply the same attention and level of protection.
How are cookies managed?
When you visit any website, it may store or retrieve information on your browser, mostly in the form of cookies. This information might be about you, your preferences or your device and is mostly used to make the site work as you expect it to.
The information does not usually directly identify you, but it can give you a more personalized web experience.
Because we respect your right to privacy, we give you the option of not allowing certain types of cookies.
In the Privacy Preference Center you can click on the different categories to get more details on each of them and change the default settings.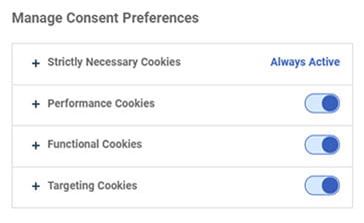 However, if you block certain types of cookies, your browsing experience and the services we are able to offer you may be affected.
Detailed list of cookies
You can access the list of cookies at this link.
Protection of your personal data
For information on the protection of your personal data and the exercise of your rights, you can consult this page.
Privacy preference center

Your point of contact
Our Group Data Protection Officer is a single point of contact for our employees, individuals and the Supervisory Authorities concerning all privacy and data protection topics. Jennifer Godin, Group Data Protection Officer Roquette Frères, Legal & Compliance Rue de la Haute Loge, 62136 Lestrem France